Looks like everyone is remembering days of yore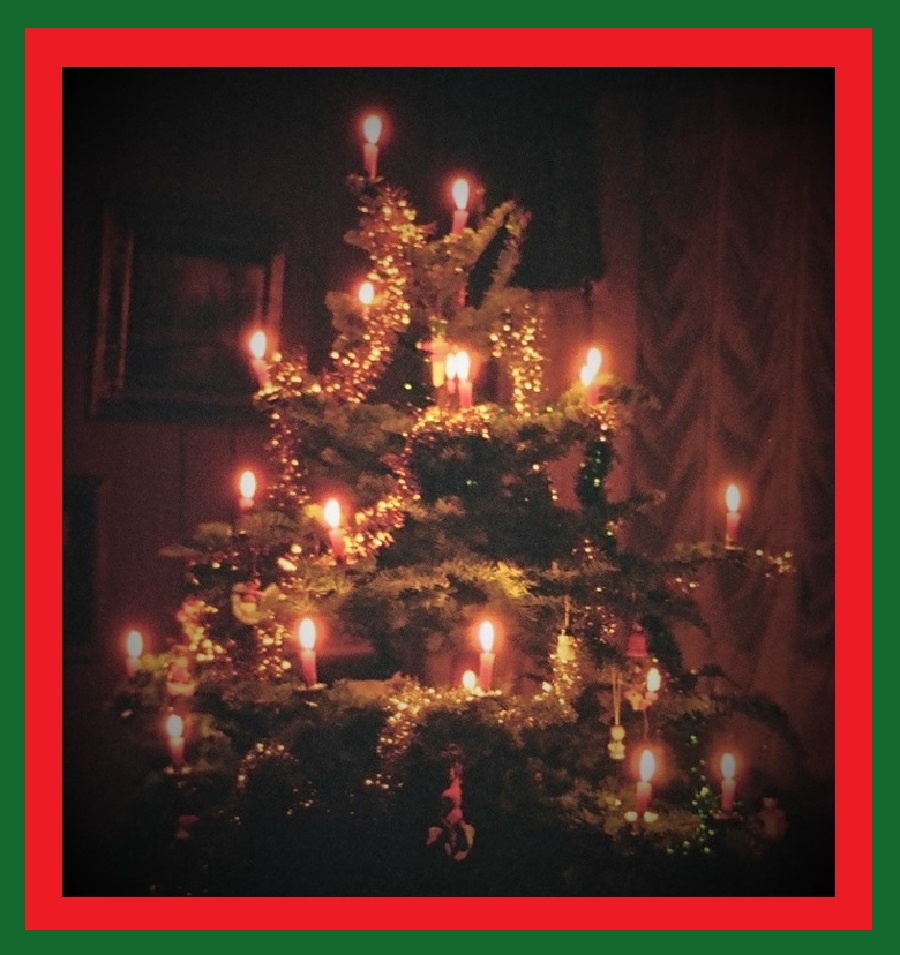 El Paso, Texas
December 4, 2016 12:12pm CST
Yeah, the shot isn't of me, then again I don't have any of me from days of yore since most family shots were taken by me and I didn't get permission to use the camera until I was about 12. I have no clue where any of the baby shots are either, those I'd love to share. Anyway, I found an old shot I took of one of mom's Christmas trees, it isn't the best shot in the world but there was only candle light so it's the best I was able to do with my limited knowledge of indoor photography. Hey, I tried. I miss her and all those fantastic Christmases we had with those amazing candles she'd always put on her tree. In case you're wondering we never suffered a house fire, but then she was born in 1916 and her parents weren't as savvy about electricity as we are in todays world plus I doubt many people in the 20s used electric lights on their trees. Do you have any shots of Christmas trees with candles? Do you put candles on the dinner table at Christmas? I know this is a wee bit early but since many of you will be MIA during the holidays I want to wish all of you one extremely Merry Christmas. And if that's not your cup of tea then Happy Holidays. I never was politically correct.
7 responses

• Canada
4 Dec 16
Very scary to have candles on the tree but that it just the way it was. I never seen candles on a tree but my mom used to tell me about how people when she was young always had candles on the tree. There were people who lost their homes because of candles too.

• El Paso, Texas
4 Dec 16
Over the centuries all anyone had was fire and they learned the rules of fire. 1st and most important about candles is never to light one if you are planning on leaving the room. Fire isn't a toy to be taken lightly and when mom lit those candles we were all right there in the room until we were ready to leave and that's when we'd blow all of them out. Mom used to tell us that as long as we trimmed the tree properly before putting the candle holders on them than there wouldn't be a problem. But to her fire was natural, to us electricity is.

• Canada
5 Dec 16
@rebelann
Yes that is true. Our neighbors just lost their home a few months ago because they child was playing with a candle.

• El Paso, Texas
5 Dec 16
OMG what were they thinking letting a child play with a lit candle
@Happy2BeMe


• United States
4 Dec 16
Oh how pretty! My parents weren't into candles (the only candles I recall in the house were birthday candles

). We grew up with the electronic lights all around the tree. I actually didn't know about the candlelit trees until much later in life . . . I always did wonder how those trees did not burn (Hubby and I were discussing this as he did not have candles in his childhood trees either . . . these must be extremely fresh green trees that have less chances of getting on fire or it's due to keen placement of these candles). I do love the ambiance of little candles all around! Happy early Winter Holidays to you my friend!


• El Paso, Texas
7 Dec 16
Yeah, a tree must be fresh and pruned properly before putting the candle holders on the branches then mom always checked to make sure none of the candles were too close to any of the branches above it or either side, she was very skilled in that respect. To me it seems odd that for centuries all anyone had were candles and now no one has a clue about fire safety, I have to wonder whats up with that. If we suddenly had no electricity a lot of people would end up burning down their homes just because they never took the time to learn about mans oldest friend, fire. I hope your holiday is amazing lil buddy



• United States
8 Dec 16
@rebelann
Yes, that would require a good eye . . . very skilled as you said. I think people these days don't think much about fire safety . . . because we've gotten lazy about it. Electricity made things more convenient, but that made people think less about any potential fires. Awwww . . . may it be amazing for all of us!!!!!!




[e

• El Paso, Texas
8 Dec 16
Boy you really hit that one on the nail
@much2say
about the only exercise most of us get anymore is with punching those keys on a keyboard .... at least I'm already old so it's expected for me to be a wee bit lazy but kids should be outside playing kick the can or hop scotch or hide n seek or tag, do they even do any of that anymore? I sure hope this will be a wonderful season for all



• United States
6 Dec 16
'tis a lovely shot, ms. anne. ne'er did've any candles 'pon our tree - dad t'was a fire chief, lol. used to 've candles all o'er the place though. momma t'was kind fond 'f candlelight. merry Christmas to ya, too, hon. big hugs!!

• El Paso, Texas
7 Dec 16


yeah, there's something soothing about candle light and if you could see a tree setup properly with candles all lit up you'd be mesmerized ..... my favorite part was blowing out the candles and what's funny is all the kids that ever saw mom's tree wanted to blow out the candles, it was the highlight of their visit to mom's house at Christmas.

• United States
7 Dec 16
@rebelann
dad always worried 'bout such settin' the place'n fire, so alas, no candles. i bet that t'was the icin''n the cake, so's to speak!

• El Paso, Texas
7 Dec 16
Isn't it amazing that for thousands of years people dealt only with fire to light the nights and in less than a century we've forgotten the rules of fire
@crazyhorseladycx

• United States
14 Jan 17
My aunt used to put real candles on her Christmas tree. They were always careful with them. Then she found some lights that were shaped like candles and started using them instead. I always loved going to her house for Christmas because she always had the best decorations.

• El Paso, Texas
14 Jan 17
So glad somebody else knows what candles on Christmas are like, there's no substitute. Did you ever take pictures of her trees and decor?

• Charlotte, North Carolina
6 Dec 16
We have just a few photos of family gatherings. Not sure why these were taken.

• El Paso, Texas
7 Dec 16
If not for me there probably would be no record of mom's amazing trees.

• Quincy, Illinois
4 Dec 16
This is a beautiful picture. It reminds me of on of those pictures that you would see on the front of a greeting card. I think this is a great shot. Im the same way with my pictures. you never really see me in them as I am always the one taking them. Merry Christmas to you as well I hope you are enjoying this holiday season.

• El Paso, Texas
4 Dec 16
Thank you for the compliment and good cheer, I definitely will be having a great season.

• El Paso, Texas
4 Dec 16
Mom's kitties never messed with the candles, they don't care much for fire of any kind.