A party like no other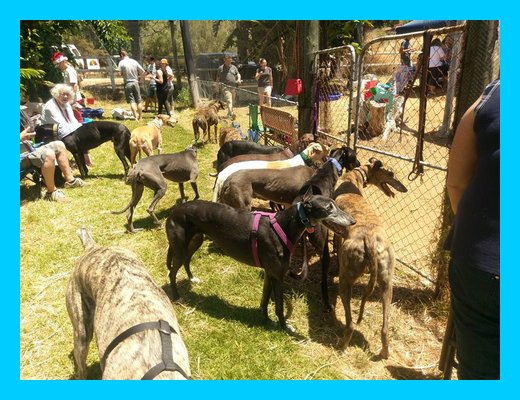 Mandurah, Australia
December 6, 2016 7:43am CST
On the weekend my friend invited me to a Christmas party for greyhounds who had been rescued and adopted. She has adopted a greyhound named Marley. The only information we had about this event is that there would be 30 to 40 greyhounds and they were to be in Orchard. We had no idea what to expect but had imagined that we would be sitting in a garden next door to the Orchard where the dogs were. How wrong we were. The owners and their greyhounds were in the Orchard together. At times we found it difficult to recognize Marley, thankfully she came and found us. Every now and then the greyhounds would just race around the Orchard, it was the most amazing sight to watch these lovely animals running free. Their lives now are so different to when they were living in tiny kennels with cement floors and forced to run. At lunch time while the owners ate their food the dogs were given special foodie treats. Afterwards they were all given a present including Diesel Dog who wasn't there as he most certainly would not pass as a greyhound by any stretch of the imagination. All in all it although it was an event we had not experienced before it was a most enjoyable day.
4 responses

• Boise, Idaho
6 Dec 16
Sounds like a great time.

• Mandurah, Australia
7 Dec 16
@celticeagle
It was great and the dogs enjoyed themselves until lunchtime then they all settled down for naps.

• Boise, Idaho
7 Dec 16
@glenniah
....They seem like a very docile and sweet animal.

• Bunbury, Australia
7 Dec 16
That sounds a great day and how wonderful that so many greyhounds have been able to be rehoused. I believe many become real couch-potatoes if given half a chance. Glad Diesel Dog didn't miss out.:)


• Mandurah, Australia
7 Dec 16
@jaboUK
Some dogs live with their owners but some have been living in kennels and now being adopted out. My friend adopted hers from an organisation which looks after Greyhounds who have not been treated well by their trainers.

• Moses Lake, Washington
6 Dec 16
Your post is so joyful and a delight to read. Sweetness!