Going out in it?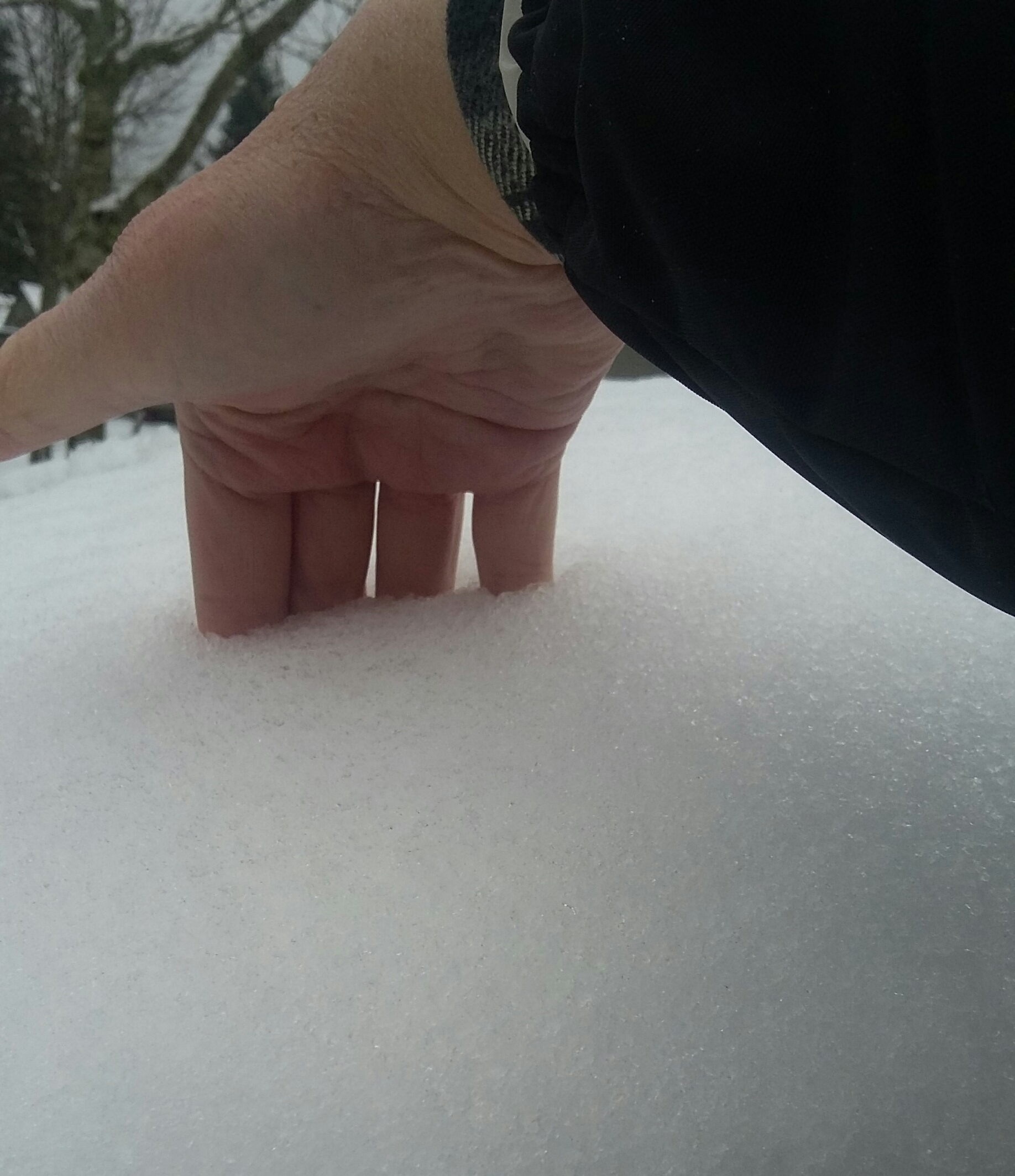 United States
December 9, 2016 2:32pm CST
This is one of the reasons I don't like this. I hate having to deal with the snow on the car and brushing It Off. since the kids in the neighborhood have run through everything it is no longer pristine. It is also warming up a little bit and starting to rain so it's starting to melt. But, we did get our share of it to the tune of about 2 inches. I took my gloves off and put my fingers into the snow on the top of my car so that you could see it goes to the middle knuckles of my fingers.
9 responses

• Banks, Oregon
9 Dec
Everything is still covered with snow here too. I am just very thankful the power stayed on.

• United States
9 Dec
I am glad that you still have power. No power and cold is worst than no power and hot.

• Los Angeles, California
9 Dec
Well, you can at least amuse yourself making a snowman.

• United States
9 Dec

• Chile
9 Dec
Not my kind of weather, Carol. Today I am very unhappy with the weather here. It has been raining since las night and all day. I haven´t gone out, I did not wash my hair and added a blanket in my bed. It´s not enough so as to put the heater on. But still... I don´t forget it is almost summer. It´s a shame!


• United States
9 Dec
I am most comfortable from April to October here North of the equator.

• Chile
10 Dec
@CoralLevang
I know. As I am here from October until April. But today was taken out of another calendar here and we had a cold rain.

• United States
10 Dec
@marguicha
Crazy weather patterns all over the world, I think.


• Garden Grove, California
9 Dec
oh jow I do not miss snow and zero freezing weather I live in California and am neverr going bnack ti "South Daots tio live again loil loil lkoilk.,

• United States
9 Dec
I am no fan of snow either. I am dreading the snow we will be getting soon. I hate cleaning the car off also. And driving in it makes me sick these days. Not like years ago. Back then I didn't mind much. Now I would rather sit home have some coffee and watch a movie.

• United States
9 Dec
@inertia4
I never was crazy to have to wear multiple layers of clothes. I grew up in SoCal, so that wasn't much of an issue. When people would don their snow togs to drive off to the mountains in the winter, I went once or twice, but never cared much for it. Mountains in the summertime is different, and I loved that, especially going fishing in the mountain lakes.

• United States
13 Dec
@CoralLevang
Living here in NYC is not always easy in the winter. But We always toughed it out. And it does not get as bad as many people think. Not like upstate New York. But I am growing tired of this weather.

• Gainesville, Florida
9 Dec
I'm glad I live in Florida where I don't have to deal with snowfall and then snow melt. If I did live somewhere where it snowed, I would prefer that once the first snow fell, that it stayed like that the entire winter. Nobody wants to deal with the mess of melting snow! But then again, what do I know about snow? Nothing! lol Maybe it's even worse to have the snow remain all winter and build up higher and higher after each snowfall.

• United States
9 Dec
We don't have have much bad weather in our local area. It rains alot, but doesn't usually get too cold.

• United States
9 Dec
I would rather have cold rather than snow. Snow is a pain to shovel and dangerous here since we usually get dumped on big time.


•
9 Dec
I hope it doesn't freeze after that rain. That's even worse to get off the car window

• United States
9 Dec
We used to have that happen all the time in the winter in Chicago. Glad to be gone from there. Two and a half years was long enough! I'm glad I escaped the third winter there!