Why not just write 'Q' rather than Queue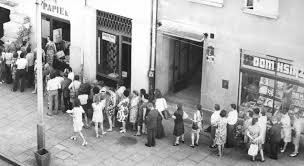 India
December 10, 2016 2:14am CST
The letter Q sounds just perfect when we write about standing in line. Why write it as 'queue'? OK if 'Q' looks odd then atleast just write it as 'que' But no. It has to be written as 'queue'. Whoever originated this must have had strong reasons. Anyone knows what those reasons were?

10 responses


• India
10 Dec
I seriously think when this language was created all was not well


• Derry, Northern Ireland
10 Dec
@allknowing
Some languages use the Q to signify a glottal stop, like Luqa, the airport on the island of Malta. Native speakers of English have a very hard time with that one.

• India
10 Dec
@pgntwo
I have not heard about it but yes other languages do have issues but nothing compared to English. You have to agree with me on that one



• Ireland
10 Dec
@allknowing
The strange spelling was introduced to annoy and frustrate children who were learning to write.

• India
10 Dec
Then there are words where 't' is silent e.g.bouquet It could have been easier if it was written like bukay. I tend to agree with you (lol)

• Ireland
10 Dec
@allknowing
However there is an elegance to these eccentric spellings that I enjoy.



• India
10 Dec
If I say I am standing in a Q surely it would not confuse anyone - Would it? Just asking. Anyway why queue? (lol)

• Manchester, England
10 Dec
@allknowing
If you say that you are standing in a queue then nobody would see the spelling. Words are often understood better in context than otherwise, so even if you write "stung by a b" it will be understood. We still need spellings to differentiate words, such as sow a seed or sew a dress.


• Abuja, Nigeria
10 Dec
Queueing..... It suggest a never ending ... Its like a running tap... But while trying to figure it out, why don't you kill two birds with one stone by figuring out why "bee" wasn't just left at "B" but had to be accompanied by a double "e".

• India
10 Dec
Bee is written as b these days in the world of mobile phones

By giving this example you have confused me more (lol)

• United Kingdom
11 Dec
Likewise y instead of why? Queueing is a good word to use in scrabble if you're stuck with a load of vowels and that damn Q.

• India
11 Dec
@Orson_Kart
That is already used in mobile messaging (lol)

• India
10 Dec
I did not know queue is a French word.

• Philippines
10 Dec
@allknowing
Neither did I. We learn something new everyday.

• United States
10 Dec
All I could find was: "French, literally, tail, from Old French cue, coe, Latin cauda, coda is from where queque came,: I like your idea of using "que." Glad in the USA we call it a "line." That's easier.

• India
10 Dec
It is difficult to find any logic with this language (lol)

• United States
11 Dec
@allknowing
Yes, and why or why cannot knife be spelled nife, since the k is useless due to being silent.

• India
11 Dec



• India
10 Dec
Abd poor us were taught to use that word (lol)

• United States
10 Dec
@allknowing
We don't use it here, thank goodness. Years ago I had to look for the meaning of it.



• India
10 Dec
@DianneN
This language is such that I think till the dying day we will have to refer to dictionaries - even the native speakers (lol)


• India
10 Dec
You remember Amitabh Bachhans lines in namak hallal? " I can talk english, I can walk english, I can laugh english, because english is a funny language" .


• El Paso, Texas
10 Dec
I do, I do Star Trek copped that letter for one of their characters