Tea and cookie, a must have for me to start my day!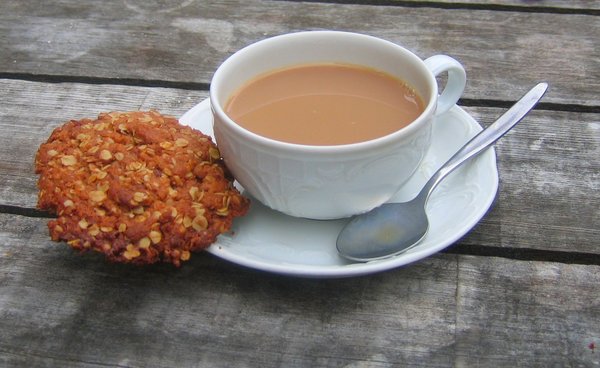 India
December 12, 2016 12:09am CST
A cup of hot steaming tea, and cookies to accompany it, have been a constant companion of my mornings for years now. Wherever I am, whatever i eat for breakfast, untill i have this cup of tea, my morning remains sleepy and lazy. This cup of tea is my kick for the day. I look forward to it every night i sleep :) I can do only with it for days, but not without it for a single day! I love all sort of cookies, and keep trying a variety of them. I can't have my tea without them. Do you have any such companion for your days? Anything you must have to feel alright? P.S. I am writing this as a cup of tea and a pack of chocochips cookies is waiting at my office desk


(Image courtesy : google images)
6 responses

• Delhi, India
12 Dec 16
I also wait for morning cup of tea which i take with some soaked almonds and some soaked walnut kernels and newspaper in front of me. I don't take biscuits or cookies in the morning. However, with my evening cup of tea (when I return home from office) I like to have some chips, peanuts or some light snacks.

• India
12 Dec 16
Almost anything tastes good with a nice cup of tea :). I generally avoid tea as first thing in the morning, mostly i have it 1-2 hours after my breakfast, so that i have room for the cookies :)

• Delhi, India
13 Dec 16
@shaynas
- Don't you take a cup of tea/coffee/milk with your breakfast?

• India
13 Dec 16
@dpk262006
A cup of milk or juice,Tea or coffee generally is my mid morning snack.


• United States
12 Dec 16
I love to have tea in the mornings too! & with a biscuit, cookie or something sweet would be lovely as well.

• United States
12 Dec 16
@HAPPSINGH
Yep green tea =) I do have other teas like artichoke tea but I prefer green!

• India
12 Dec 16
so, tea is a part of your mornings too :)


• Philippines
15 Dec 16
For me it's coffee after i have taken a 20 minute nap at the office .

It takes away my sleepiness from lack of sleep on weekdays when i wake up early but can';t sleep early in the evening .

• India
15 Dec 16
It happens with me too, i can't sleep early even if i have to wake up early in the morning.

• Macedonia
12 Dec 16
Oh! I love all kind of cookies and tea. I am big fan of tea and I drink it everyday.. i drink different kinds of teas, maybe 3-4 types in one day. Though for breakfast i always eat buckwheat with milk or quinoa.

• India
12 Dec 16
Wow... u seem to have a nice variety of teas available there



• Philippines
12 Dec 16
WOW! I love your routine, so delicious!