-21 Degrees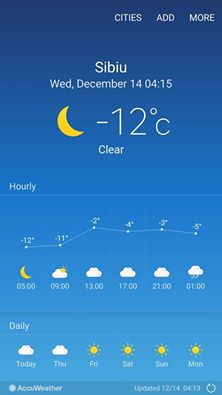 5 responses


• Canada
14 Dec 16
Same temperature we have here and I am not liking it one bit.

•
14 Dec 16
It'seems crazy! Global warming or global cooling?

• Canada
14 Dec 16

• Chile
14 Dec 16
I only like that weather in postcards.

•
14 Dec 16
Same here! Or when I am free and don'the have to step out at all :)

• Chile
14 Dec 16
@krspeace
With central heating you can watch the postcard from your window.


•
14 Dec 16
Actually went for a night cap instead of a warm coffee :p. It was 4am and coffee keeps me up

• Greencastle, Indiana
14 Dec 16
BURRRRR too cold for me but we're looking at the same weather here in a few days stay indoors if you can & if not, be careful out in it cause it is very dangerous to be in it.

•
14 Dec 16
I have 3 more shifts and then I am on vacation for 9 days..can't wait!