Honk If You Will Miss Alan Thicke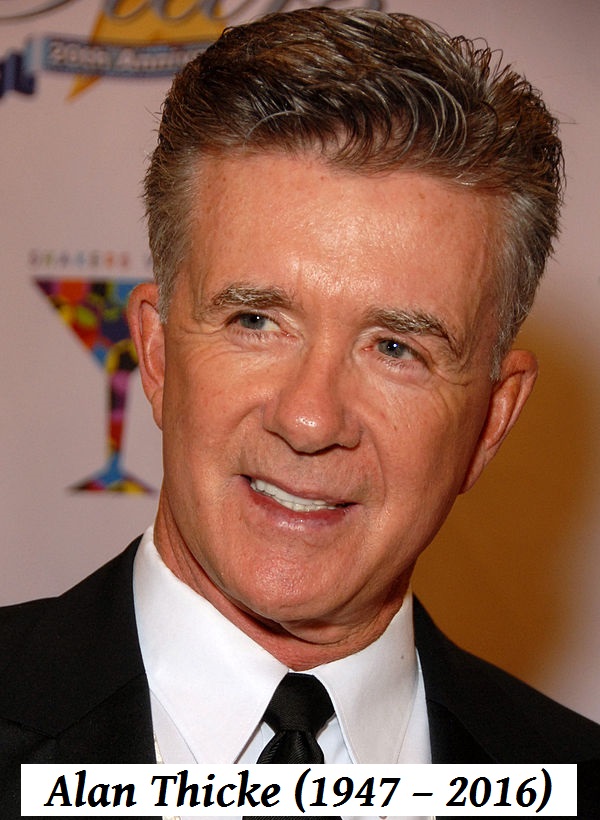 Austin, Texas
December 14, 2016 9:25am CST
Alan Thicke (1947 – 2016), 69 years old, died of a heart attack. Mr. Thicke was an actor, talk show host, composer, and I think his son, Robin Thicke (popular R&B/Pop singer), would probably say "Best Dad Ever!" Have known about this celebrity for years. Never really followed him like a devout loyal fan would. But I always liked him! For me his appeal was: he came across as if he was just an average ordinary Mr. Nice Guy who lived next door. That's my short eulogy. Paying my respects. Anybody remember Alan Thicke? (Image source: Wikipedia)
10 responses

• United States
14 Dec 16
He was playing hockey with his sone.

• Canada
14 Dec 16
I heard the news last night as soon as it came across the news waves. I was shocked and sadden by this. He was from Canada and we were proud of him. I even visited his hometown a number of times because I had family there. I got to see where he was raised. He will be missed. I remember the first time I seen him on the TV many years ago now. He had his own talk show back then.

• Cuyahoga Falls, Ohio
14 Dec 16
Of course, I did from Growing Pains. I've just heard this sad news this morning with Live with Kelly. He'll be deeply missed. My condolences to his family.


• Los Angeles, California
14 Dec 16
It was a surprise. I just saw him in a Christmas movie where he played a chef judging a cookie contest.

•
11 Dec
Sorry I am not honking but I did like him.

• India
16 Dec 16
Though this world is getting crowded with celebrities, some people are powerful enough to make their mark in hearts and minds of their fans

• Toccoa, Georgia
14 Dec 16
I never watched that show he was famous for. I was more familiar with his son Robin. I remember reading how his son Robin went through a divorce last year. May he RIP

• Jacksonville, Florida
14 Dec 16
That is so sad, he did seem like such a good down to Earth guy. My prayers will be said for his family. =(


• United States
14 Dec 16
Yes, watched the show all the time. Really was a regular guy! He will be missed by so many.