Fluffy, My Turtle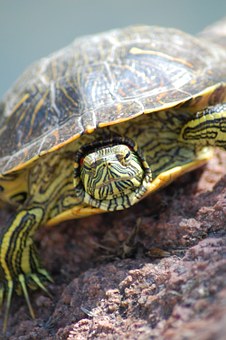 Virginia Beach, Virginia
December 14, 2016 8:30pm CST
"Sit!" "Stay!" "Play dead!" "Roll over!" (OK, HALF-way over) are commands that work well with obedient dogs, but Fluffy, my turtle, just doesn't "get it". All he does is give me that dumb stare like he doesn't know what I'm saying. I'm afraid it's impossible to get through to him. It could be that he's still angry at me for letting him down. I had promised him I would never let my grandson use him like a Hot Wheels Racer again after his blisters healed last year but I forgot this past weekend when the boy was here. I hated that Fluffy had to get hurt again but that was the necessary step I had to take to get the kid off his computer and outside for a while. You wouldn't think a smooth concrete sidewalk could be so abrasive. Yet, to be fair, Fluffy is partly to blame himself. Had he not pulled his head in when Junior picked him up he wouldn't have looked so much like a little green Ferrari.
4 responses

• Centralia, Missouri
15 Dec 16
lol, poor fluffy, maybe he just needs wheels glued to the bottom of his shell

• United States
15 Dec 16
Thanks for a good laugh, Joe. I needed it!

• Singapore
15 Dec 16
Oh my, poor turtle! Is this Ferrari a two-seater?

Could you bring both your grandson and Fluffy to somewhere with water, that might be a better environment for both of them to enjoy and it would be a greater distance from the computer.


• Garden Grove, California
15 Dec 16
lol I love it how fuyh good post so little green "ferrari wow poor turtle lol