Yummy papaya shake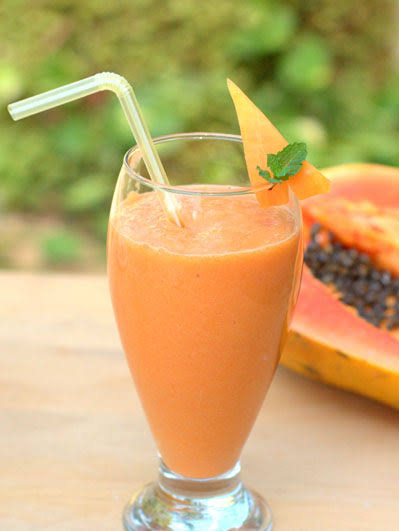 Philippines
December 17, 2016 1:12am CST
Papaya fruit is one of my favorite fruits. It is loaded with antioxidants that can reduce inflammation, fight disease and help keep you looking young. Aside from that, it is also high in fiber and water content, both of which help to prevent constipation and promote regularity and a healthy digestive tract. If it is ripe, it can be eaten raw but i prefer to eat it like this one mix with condensed milk. What is your favorite fruit?

Photo:jaipurbeat.com
7 responses


• Philippines
18 Dec 16
Thanks for sharing dear. I like bananas,too.



• Susanville, California
22 Dec 16
I have never had a papaya

can I try some of yours?

My favorite kind of fruit though is kiwi!

• Philippines
26 Dec 16
Yeah. Sure...That's good to hear.I haven't tried kiwi eversince the wold begun.



• Waikoloa, Hawaii
4 Oct 17
i wonder what is this taste looks like?


• Philippines
31 May 17
Nice to hear. Thanks for sharing


• Trinidad And Tobago
18 Dec 16
I like all fruits. But your papaya drink looks delicious. Yum! Here we call it paw-paw. It's a heart fruit.I love the ripe ones.

• Philippines
18 Dec 16
Yeah, really yummy...it's my first time hearing that term " paw-paw.


•
17 Dec 16
Pineapple and pear. My dad likes eating papaya.

• Philippines
18 Dec 16
Thanks for sharing with us your fav. I love that two fruits too. Oh, nice to know that we have same fav with your dad.



• Roseburg, Oregon
28 Dec 16
We do not have paoaya fruit here. I like apples, pears and oranges.