Fill in the gaps.

Philippines
December 18, 2016 10:12pm CST
Do I like Star Wars? Well, like Harrison Ford. you can omit me from the discussion. Enough of the force and Darth Vader for me, especially so when the rise to evil of Anakin disillusioned many a fan that evil could be so fascinating. Yet, with my daughters, I found myself in sync with the millennials watching the sequel hoping to know whatever happened to Luke Skywalker. Who would not want to know. After all, there is a Jedi in all of us. The demise of Hans Solo was the last straw. Every one was talking about Ford wanting an end to his character, and I wondered if only I had seen it was a cinematic technique from Oedipus Rex, that the son will slay the father in a place where three roads meet. With Hans, it was on a bridge that hanged over a pit. Suffice it to say that bringing back the Star Wars characters of my youth fascinated me, even if the new characters are totally millennial in action and disposition. Oh well. Surprises of surprises, my daughter brought me yesterday to a movie treat called Rogue One. I asked right outside the theater at Century Mall if the movie was starring Baymax? My daughters sighed in disgust. They filled me in that this was a side story in Star Wars. And I found myself enjoying a rebel group led by a lady, offering their lives, with only courage and resolve, to secure a document from Darth Vader's Imperial Globe, a document that shows a loophole, or a fault, or the Death Star's Achilles Heels, that which makes the sinister headquarters vulnerable. The lady heroine is known as Star Dust, a romantic name given by her parents to a child whose life's story is as contrary to her poetic alias. She was brought up by a questionable creature after her mother was killed and her father taken. Yet, her child's longing for father remained, as a star dust does in the vast multitude in the galaxy. So I found myself loving Star Wars again. And if I may mention, to spoil you further, that the force is strong, with the Jedi perhaps descendants of ancient arts born from the cold Himalayas, I don't know really. No way to end this piece but to say that "I am one with the force and the force is with me."
2 responses



• Philippines
20 Dec 16
@mythociate
And I only thought it was just about how cute Luke was. Ha ha. And Darth Vader was a sinister breathing apparatus. Imagine how shocked I was when decades after Star Wars, Empire Strikes Back, and Return of the Jedi, I was transcended back into their past, to learn about how evil came to be, and how Jedi was almost extinguished. The future is welcome. Waiting for a Luke comeback.

• Australia
20 Dec 16
@eileenleyva
Oh okay... now I have some ideas what was that all about... I do enjoy spending time with my sons... But they are all grown now and naturally much more independent... They went to watch the movie by themselves, I just asked them how it was when they got home...


• Philippines
20 Dec 16
@sishy7
, yes, that is the inevitable, isn't it? My daughters have grown also, and I live in an empty nest, We only see each other weekends, laundry and church time. The years when we watched Toy Story and Lion King, Harry Potter, and the Lord of the Rings, those were the wonderful years. I know everything about my children. Now, that is not so any more. A conversation is a quick brush up on their stresses at work, and am not allowed to comment. Millennials. Ha ha. But of course, I have no complaint. It is reality check. That Rogue One viewing was an accident. We were supposed to watch Moana. Ask more, Your sons could give you more scoops that could be juicier than the news, I fish for that every time.



• Oklahoma City, Oklahoma
19 Dec 16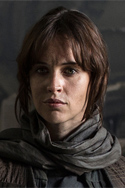 Star Dust ... is that a nickname? a translation of Jyn Erso? http://starwars.wikia.com/wiki/Jyn_Erso