A Christmas Philosophy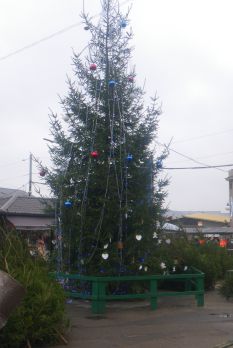 Daytona Beach, Florida
December 19, 2016 7:30pm CST
I always want to keep the Christ in Christmas. However I also enjoy the fantasy of Santa Claus and watch all of those many different Christmas movies. Then after Christmas I think if I hear one more ho, ho, ho I'll bash someone but Christ always remains and I always keep to my faith. Having said that here comes the Christmas philosophy so to say. One Christmas movie has Santa having troubles and it is said that with no Santa there would be no Christmas. No toys for children and no joy. Well I look at it differently. Even if there was no Santa there would still be a celebration which would be celebrating Jesus birthday. If on that birthday we also wanted to gift each other, why not? So let us enjoy the fantasy of Santa just for sheer joy and the pleasure of children but in our hearts let us keep the Christ in Christmas. What do you think? Photo of the large Christmas tree in our Central Market
6 responses

• United States
20 Dec 16
Yess. As long as you teach the child what Christmas really means its all good.

• United States
20 Dec 16
What a wonderful message! Well said.

• United States
20 Dec 16
I think if the actual date of the so called saviors birth was given, there would be no Christmas celebration at all . . . BUT it was a very clever plan to sway millions and millions of people and see how wonderful and joyous this season has become ?

• Daytona Beach, Florida
22 Dec 16
Actually they think Jesus was born late August or September. I wonder what holiday we would be celebrating then or perhaps his birthday would be a holiday
@enlightenedpsych2

• United States
23 Dec 16
@RasmaSandra
hmmm a very good question what would it be besides a birthday ? Savior day ?

• Preston, England
20 Dec 16
the Santa and Jesus myths are very intertwined

• Bunbury, Australia
20 Dec 16
I agree with you completely. Christmas should be about Christ.

• United States
20 Dec 16
The very best idea of Santa Claus is that he, St. Nickolaus was generous and loving, as a representative of Jesus should be. There is great joy in giving, if we do not think of it as an obligation.