A Not So Holly Jolly Pre-Christmas Dentist Visit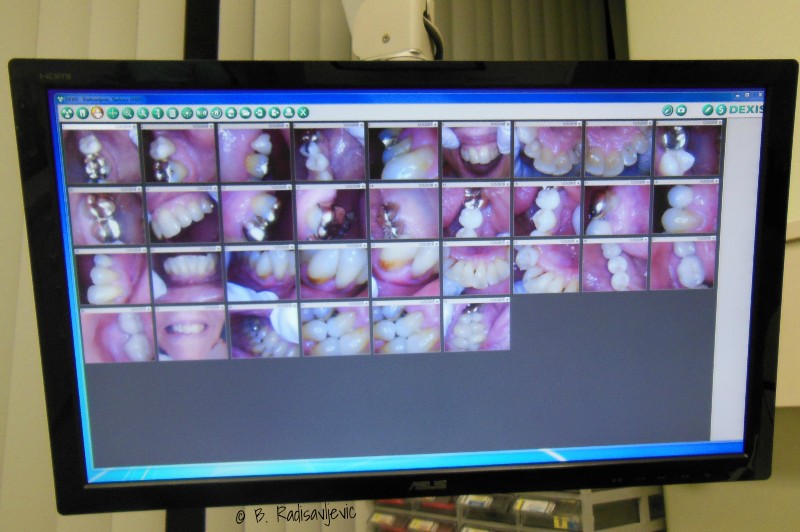 Paso Robles, California
December 20, 2016 3:08pm CST
Yesterday I made a trip to the dentist I'd been dreading. I had already done the X-rays, teeth cleaning and full mouth exam, and it was the first visit where I knew my mouth would be worked on. Was it ever! In the photo you see the individual pictures of my poor teeth taken with a tiny camera inserted into my mouth on the last visit. I will admit the exam that day was more thorough than any I had ever had. It lasted over two hours. That's the primary reason we switched to this dentist. Up until three months ago, we'd been perfectly happy with another dentist (well, as happy as anyone can be with a dentist.) He was gentle, kind, and about as painless as a dentist can be. All was well until my husband had his last exam. When the estimate came in of how much the work would cost, my husband decided to get a second opinion from a dentist, whom I will call K, who goes to our church and was highly recommended by a dental consultant who also goes to our church. I had actually been going to K before, but I didn't like her office set-up, since I could hear everything going on in surrounding sections that made noise. I am very sensitive to noise, and I'm a very nervous dental patient, to begin with. After I finished that series of visits, I switched dentists on the recommendation of my beautician. Later I was in a Bible Study that met in K's home, and I was feeling a bit guilty, since she had revealed a lot in the group about her work life. She had become a person to me, not just a dentist, and I could tell that she was probably hurt that I had switched. So one night after Bible study, I explained to her after the others had left why I'd switched -- that it was her office set-up, and nothing personal about her. She seemed to understand, and we both knew she couldn't change it. I still felt bad. That's the history. So when my husband got the estimate from our previous dentist, he went to K for a second opinion. We knew she was a good dentist who probably did more to keep up with new developments than many others. We knew she was attending out-of-town workshops on weekends frequently. When my husband went to see her, he found he could save money by switching. However, the big thing was that her more complete exam, which included x-rays of the tooth roots, revealed an undiscovered abscess -- an infection that could have killed my husband fairly soon had it continued to be undetected. (He has two artificial hips and a stent ) K was surprised that he was still alive. He'd been feeling sick for weeks, but the doctors couldn't find anything wrong with him. Our other dentist only took x-rays of the roots every five years. It had been a long time. Therefore he did not find this infection. K pulled the tooth immediately, and Hubby is waiting for an implant. We are thankful that the supplements we take to support our immune system seem to have protected him by fighting the infection that might have killed him had his immune system been weaker. Although I had a teeth cleaning scheduled for October in the other dentist's office, I canceled it and decided to switch back to K, in spite of her office. On my first visit back the music was driving me nuts, so I asked if it could be turned down or the station switched to something calmer. They responded immediately by changing the station to classical music. The Moonlight Sonata calmed me down. Anyway, yesterday was the first time in a long time K did any actual work on me. It hurt. Let's just say that I remembered her as being a bit more gentle. I'll give you that the cavity was in an awkward place, very close to the gumline. Also, it wasn't all her. The dental assistant who was also doing things with instruments in my mouth was pressing very hard against an already sore lip and the pressure felt like my lip was being sliced. K was stretching the lip to get it out of the way. Once the shots, which were painful took effect, the pain wasn't in my teeth but on my lip. I don't think I've been so glad to get out of a chair in a long time. K did apologize, but I'm not looking forward to my next visit. That will be an upper tooth, and those are always worse. At least the shots are. The other dentist was much better at giving the shots. So the choice appears to be a better diagnosis that keeps me from dying too soon or more painless dentistry. I'm really glad K found out what the doctors didn't about the infection. She probably saved Hubby's life. For that I owe her big time. But I'd still like stay away from her office as much as possible. It strikes me as ironic that we pay really big bucks to go get hurt. They say there's not gain without pain, and I guess dentistry is a good example of that. Do you have any dentist stories to tell?
6 responses

• Bunbury, Australia
21 Dec 16
My son is 44 but really not good dentists. He now wears earphones and plays his heavy metal full-blast. At least it gets him through his treatments. But maybe ear-phones and your choice of music would help.

• Paso Robles, California
21 Dec 16
Our other dentist offered them to me. I tried them, but all they did was magnify the noise of the drill vibrations in my head. I couldn't handle it.

• Bunbury, Australia
21 Dec 16
@bagarad
That would be awful. I wouldn't be able to handle that either.

• India
20 Dec 16
I just had a visit too but just to reduce the sharpness of a couple of broken teeth. The caps have come off.and I have no intention to replace - have to thank the roasted almonds for that. . I have also decided never never to go for dentures should the occasion arise (lol) Yours seems to be an elaborate sitting - good you had the patience.

• Paso Robles, California
21 Dec 16
I didn't have the patience. At the end I sort of zoned out. Yesterday toward the end I got a foot cramp on top of everything else. Fortunately, I won' t have to go back for more work until January.

• Los Angeles, California
20 Dec 16
So much dental pain on myLot today. I feel the pain.

• Paso Robles, California
20 Dec 16
I didn't see the others yet. I guess I'd better see who else is suffering.

• United States
20 Dec 16
K really did save your husband's life, and even if her work is sometimes painful, she does seem like the right person for dental care. My dentist is from China. He is a one-man-show. No assistants, one chair, and he is amazing. He never hurries because he has no other patients waiting in chairs. His shots do not hurt because he "knows where to look." He uses techniques that I have never experienced before to make any procedure pain-free. He will retire next year and his son will take over, but he will be there to make sure all is done the way it should be, for a while.

• Paso Robles, California
20 Dec 16
I'm afraid you're right. Plus, I'd rather give the money to a friend.

• Kakamega, Kenya
20 Dec 16
Quite interesting. It is high time I get one

• Paso Robles, California
20 Dec 16
I'm afraid that dental check-ups are important, especially if you are feeling sick and the doctors can't figure out why. Of course, it's much better to get checked regularly so the dentist can catch things when they are small and fix them right away so they never become bigger issues which are not only more expensive and painful to deal with, but also more dangerous.

• India
20 Dec 16
@bagarad
Good to see you here.No interesting stories like yours.

• Paso Robles, California
20 Dec 16
Consider yourself fortunate.