Gratitude Challenge Day #796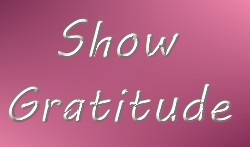 United States
December 20, 2016 11:47pm CST
Hiyeee, everyone. I'm finishing up my work and then hitting the hay, so I'm gonna make this my last appearance on MyLot for the night. This is the Gratitude Challenge for Tuesday, December 20th... 1. My sister and brother-in-law sent off my last two Christmas cards, so I'm good to go with all that. 2. I've been doing okay with my writing; worked for several clients today. It's about to get better because one of my favorite clients just put a ton of orders on the board. :) 3. I watched WWE Smackdown tonight, and of course I enjoyed it, especially seeing Randy Orton haha. 4. I've been wanting a hot chocolate for a few days now, and I finally got around to making one tonight. It looks like I'm gonna have to get more though. 5. My New Kids On The Block playing list... because it's keeping me awake until I finish these last few orders. I'm going to bed as soon as I hit my daily goal though. Okay, I'm gonna finish my work and hit the hay. You all have a good night/morning and take care. Photo Credit: I made this graphic using PhotoImpact 6.
1 response

• Green Bay, Wisconsin
22 Dec 16
It's always good to have something to keep you awake when you need to finish your work. I'm glad you won't have to worry about work for a while and you can make your goal. Hot Chocolate is a must in winter. I hope you had a good night's sleep.

• United States
27 Dec 16
Thank you so much! I'm doing a few orders today, but not pressuring myself this week or next week because I -know- how things are during this time of year. I need to get more hot chocolate; we're running out and they didn't have any instant hot chocolate the last time I went to Target. Like, who bought all the hot chocolate lol?!? Thank you!

• Green Bay, Wisconsin
28 Dec 16
@tammys85
Must be cold in your neck of the woods to be out of hot chocolate in the stores. Good idea not pressuring yourself with work.