Do you know which cartoon movie won the most takings from the ticket office?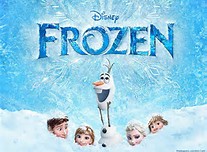 Guangzhou, China
December 23, 2016 2:52am CST
There are many great cartoon movies. I am still a little surprised to learn that Frozen is the top 1. It is over $1.2 billion. That's so amazing. Frozen is a nice cartoon movie but I think it suits girls much more. I wonder how it will be top 1 as other cartoon movies can suit both boys and girls. In fact I personally like a cartoon movie called Robots. The story is great and it is touching and meaningful. A cartoon movie good for both children and parents. Somewhat this cartoon movie is not so popular anyway.
9 responses

• Banks, Oregon
23 Dec 16
I heard it was very popular. I still prefer looney tunes lol.

• Banks, Oregon
23 Dec 16

• Houston, Texas
23 Dec 16
@youless
I listened the song many times from children. I never saw the movie befor, I want to watch the movie.




• North Shore, New Zealand
23 Dec 16
Yeah we also waiting for Frozen 2...hehe . my elder daughter loves it

• United Kingdom
23 Dec 16
as expected :) I've seen that film maybe 20 times already hahaha i think Moana is also good :) 2nd Frozen film will be out next year!

• United Kingdom
23 Dec 16
@youless
the princess Anna found her true love but Queen Elsa hasn't hehe

• Guangzhou, China
23 Dec 16
@therealmaryyy
You are right. But Anna's true love is not a princess and this is quite different than other fairy tales.


• United States
23 Dec 16
I kind of guessed that Frozen would top the ticket sales because it is quite the popular movie.

• Canada
24 Dec 16
I didn't know but now I do, thanks to you.



• Cagayan De Oro, Philippines
23 Dec 16
I prefer to watch cartoon movies like Frozen.It is so cool and relaxing.