5 Interesting facts about the apple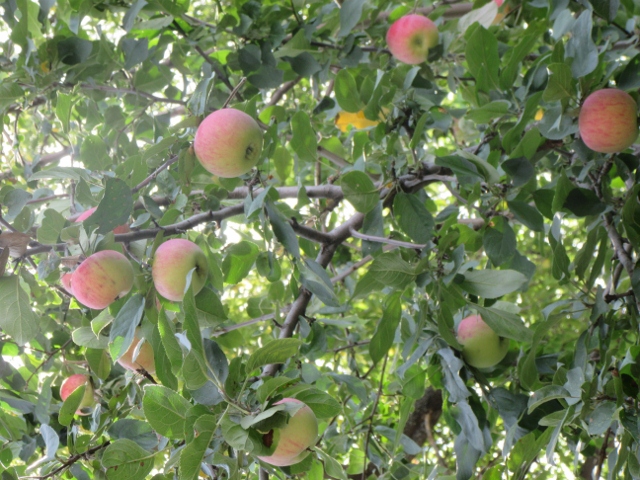 Canada
December 24, 2016 12:19am CST
I have a couple apple trees and make full use of the apples they produce. We all know they are delicious and healthy but here are some interesting facts about the apple. 1. The apple is a rose in a different form. It is in fact a member of the rose family. 2. Apples have religious significance in some European cultures. 3. There are more genes in the apple than in humans and any other plant studied so far. Humans have about 30,000, apples about 57,000. 4. Don't eat the apple seeds as they are toxic. A few would not harm you but too many can cause cyanide poisoning. 5. The apple plant originated in Central Asia For me the best thing about apples is apple pie. How do you like them apples?
7 responses

• Peoria, Arizona
24 Dec 16
Those are some pretty handy facts. The think I know about apples is that I ate so many as a kid that if I eat apples now, I cannot have more than one every few days or else I get really sick! haha so much for an apple away keeps the doctor away

• Canada
24 Dec 16
You may have developed an allergy to a certain type of apples. I understand some are cross pollinated with peaches which some people are allergic to

• Peoria, Arizona
26 Dec 16
@Freelanzer
Nope, it is not an allergy, it is the fact that I age so many apples that the skin made it difficult for my system to digest because of how hard it had to work because it takes a while to digest apple skin in general.

• Canada
24 Dec 16
Apples are so versatile you can enjoy them fresh, in cakes, salads, jams and cider.


• Canada
24 Dec 16
Apple squares is a great idea, I have to try them sometime.

• Bunbury, Australia
24 Dec 16
I spent one season picking apples on an orchard and those apples off the trees - I can still taste them. I don't like Golden Delicious much normally but straight off the tree they are SOOOO good.

• Canada
24 Dec 16
There is nothing like fresh apples off the tree. When they are in season I eat them off the tree and fresh apple pies are way more delicious than regular pies.

• United Kingdom
24 Dec 16
Apples are very interesting indeed. The county I live in is called kent. It is known as the Garden of England. We have two facilities in Kent. One is a research facility and have every type of apple on earth. They seeds are stored for future should a variety become endangered. There is also another place where they grow thousands of varieties of apple along with pears, cherries and plums. You can go on a blossom tour around the county to see all the fruit trees in bloom. There is a set route to take so you can admire the beautiful scenery. As you can imagine it gets very busy with lots of tour busses and individuals driving around the circuit. Our most famous apple we use for cooking purposes is called Bramley. This variety is tart but delicious in pies.

• Canada
24 Dec 16
It would be lovely to visit that research center some day or any place where one can sample some of the thousands of varieties of apples out there.

• Banks, Oregon
24 Dec 16
Wow very interesting about apples and, thanks for sharing, my favorite thing about them is apple pie too.

• Canada
24 Dec 16
It is a wonderful and versatile fruit and so many kinds to choose from

• Boise, Idaho
25 Dec 16
How interesting. I love apples. I like apple cider.and butter.