Christmas Eve 2016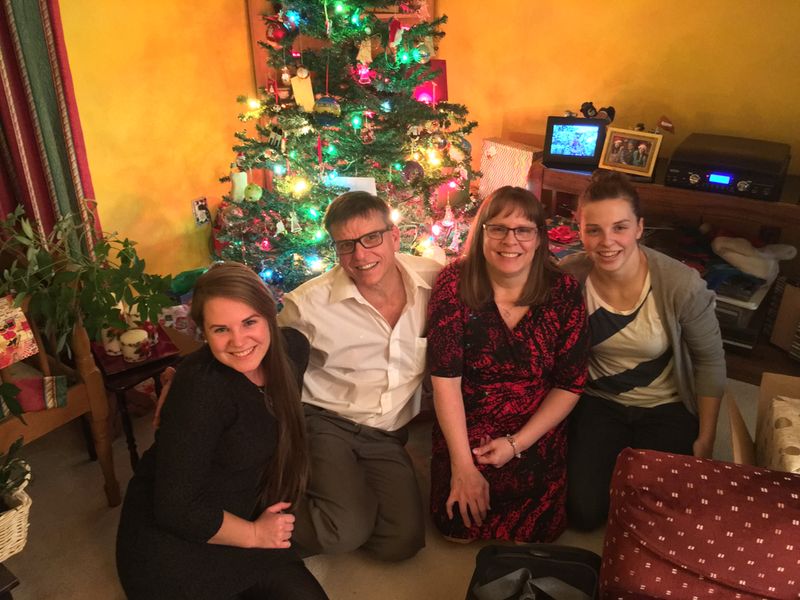 Orangeville, Ontario
December 25, 2016 2:05am CST
Well, I got a ton of food left over and don't feel like cooking another meal Christmas Day only to have more left overs. But I will do it. My girls were so helpful both with prep and clean up. At the last minute my younger daughter said she was missing having ham (I made chicken cacciatore), so I pulled a half ham out of the freezer, thawed it and stuck it in the oven just before we left for church. I made way too much rice. I didn't eat much as my stomach fills up pretty quickly. I did drink wine, though, but for only one reason... so my husband wouldn't drink the whole dang bottle! My daughters' boyfriends loaded me down with chocolate. It's the last thing I need. I mean, there is A LOT of chocolate. I thought things were good with me and hubby but he was reluctant to pose for pictures with me. He doesn't look great in them. This one is of our family and was taken by one of the boyfriends. Turkey, mashed potatoes and turnip tomorrow. At least I won't have to cook for a week!

4 responses

• Canada
25 Dec 16
Nice photo. Leftovers can be frozen for another day. I always look forward to the Christmas leftovers.

• Canada
27 Dec 16
@patgalca
that sounds like our Christmas a few years ago. We had a mountain of sugary sweet treats when the day was over. Freezing the chocolate sounds like a good plan


• Philippines
25 Dec 16
We have leftovers too after Christmas. Nice Christmas family photo.

• Roseburg, Oregon
25 Dec 16
It is good to have lots of leftovers for a week. That is great. We have lots of leftovers to.

• Canada
27 Dec 16
I think I may start the day reheating a few cinnamon buns for breakfast.


• Bunbury, Australia
25 Dec 16
It's a nice photo. I've been given a good amount of chocolate too.