Church Pests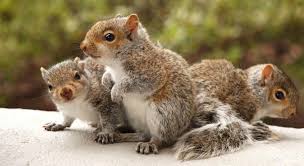 Virginia Beach, Virginia
December 26, 2016 9:27am CST
After graduating from Seminary I was sent to pastor a small church in Eastern North Carolina. As with most small churches, this one had it's share of problems. Having been built right in the middle of a large Oak Grove provided an ideal setting for those bushy-tailed pests. Squirrels invaded any time no one was in the building. Those pesky critters gnawed holes in the eaves to get in. Not only did they munch on the pulpit and chew up the pews, they ate song books too. Nobody had been able to correct this situation before I got there. They just didn't know how. I had to use a method I learned in Seminary. I rounded up the squirrels, baptized them all and made them church members. Now they only show up at Christmas and Easter.
3 responses

• United States
26 Dec 16
cute story there Uncle Joe

• Centralia, Missouri
27 Dec 16
and here i thought the solution was going to be squirrel chilli

• United States
26 Dec 16
Such a kind thing you did for those squirrels. The squirrels who do eat the pages of song books magically become excellent singers. Those squirrels who refrain from eating song book pages cannot carry a tune.