Facebook SuperCity Christmas Market: Simply Massive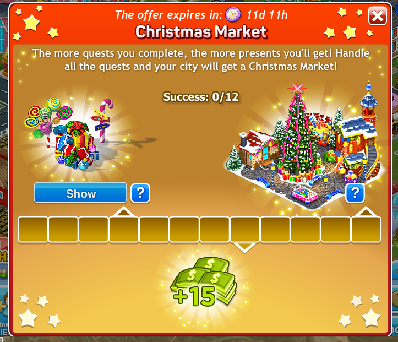 United States
December 28, 2016 1:27am CST
I started playing SuperCity on Facebook because it's a lot like the original SIM City; there are differences like raising or lowering taxes, not having to pay for land (unless you modify it) and the ability to buy bonds to improve the city. One of the best things about this is that you don't have to be logged in or online to have things progress in the game (recovering energy, having building being built, collecting a daily prize etc) The Christmas Market is a bonus building that you can buy … if you are preared to click your butt off and get help from friends. If you build it within the allotted time you are rewarded a Candy Cane Sign, Christmas Presents and a Lollipop Tree. You also get your very own Christmas Market that rewards you prizes ever 24 hours. Those include 4 – 7 glass baubles, 4 units of energy and 3,000 coins. At the bottom of the popup it shows 15 SuperBucks but they don't clarify if it's a one time thing or something you get every 24 hours. I have a little over 11 days to do all the missions, some of them can be made by combining parts but there are some you have to ask your friends for. CHRISTMAS MARKET I 28 Diamonds – Mansion 41 Brochures – German Home, Colonial Home, German Home 65 Burgers - Bistro Photo: Screenshot of my city, Halloweentown
2 responses

• Colorado Springs, Colorado
28 Dec 16
People don't get to attack you do they? That's why I quit playing Mafia Wars and Battle Pirates.

• Colorado Springs, Colorado
29 Dec 16
@freak369
- Ah. Thanks. Maybe I'll try it if I ever get around to getting another laptop.

• United States
1 Jan 17
I will take a look, as no more Mafia Wars. I was tired of being attacked. Games have to be easy play without any stress.