Rush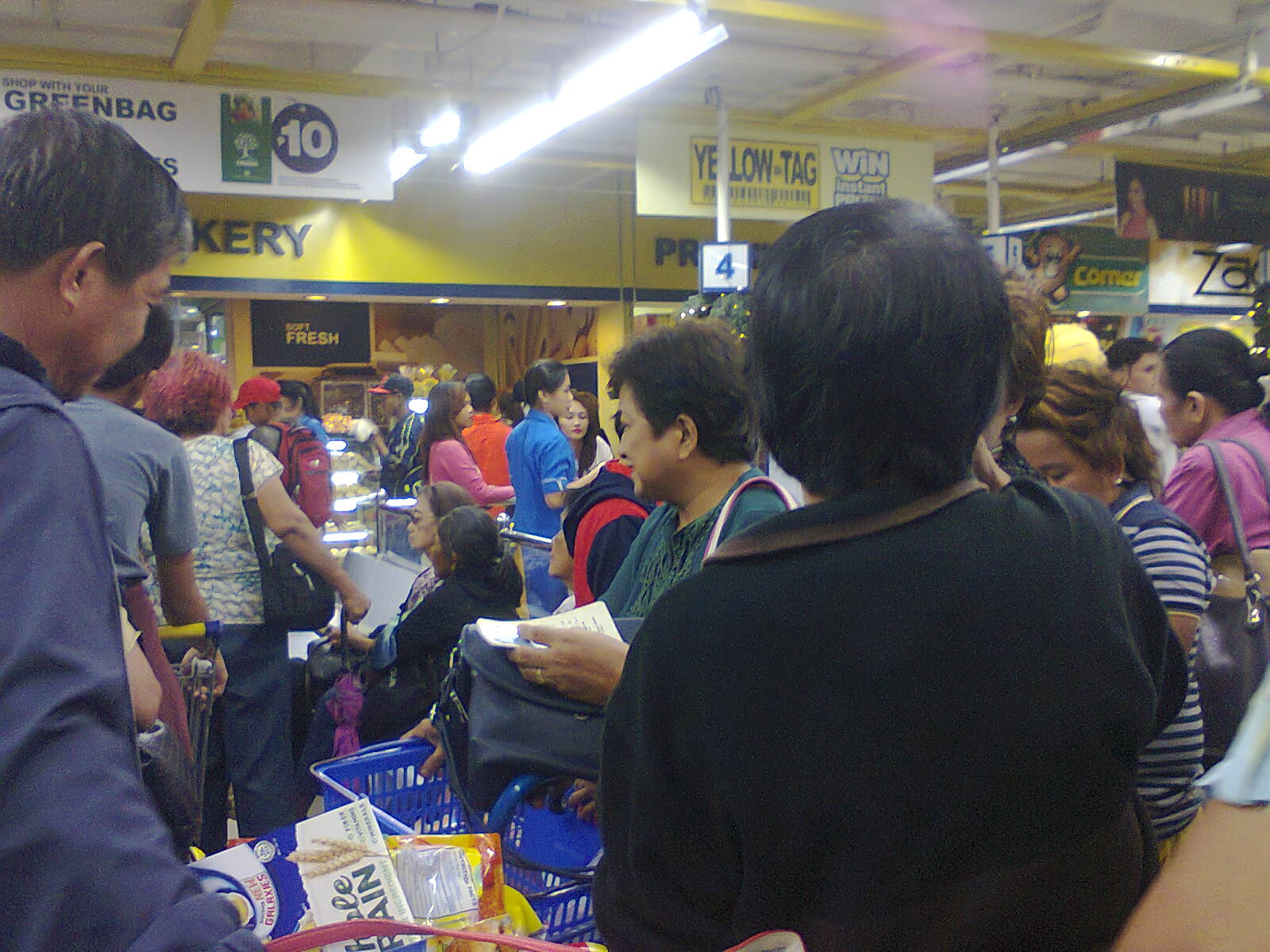 Philippines
December 30, 2016 5:09am CST
I and my sister planned yesterday to buy the things needed for the media Noche (at the stroke of midnight of December 31st to welcome the new year) this early morning because we thought the traffic in the city, and traffic in the supermarkets will be toxic as always, so we left at 8:30 AM in time for the opening of Save More at 9 AM. Alas! the supermarket was already open at 7 AM, and as usual, there were so many people rushing to buy what they need for the foods. There was a lane for the senior citizens (my sister is a senior citizen) but there was already a long queue. I had to tell 2 women that they are in the wrong lane (they were younger than me). No, it is not procrastination why there are some who rush to buy; maybe because they had so many plans and priorities. I don't know. Hahaha! Are you rushing? Picture, which i will put later in my mobile phone, shows the people who were in the queue.
8 responses

• Philippines
3 Jan 17
My hubby and brother-in-law rushed also to the grocery last 31st the moment the electricity was back , to buy those ingredients for salad and the chicken to be cooked on the turbo broiler . And they said the lines were so long at the supermarket so they went to the wet market instead .


• Philippines
3 Jan 17
i guess the supermarket there had generator so all cold cuts were in the freezer. here, when typhoon Lawin came, the supermarkets opened but their freezers were off and there was no aircon too.

• Philippines
3 Jan 17
@ridingbet
Same here on some malls there are no aircons during those times . It was like an oven so we chose the other mall whose generator can operate airconditioners that people flocked there to shop instead .

• Philippines
3 Jan 17
@SIMPLYD
during the time that we were in the supermart, it was as if there was no AC because of the many people who shopped. 'wala rin', it was hot inside SM



• Philippines
3 Jan 17
that is good and better. i wonder why many still prefer to buy when it is already rush time. as for us, we were not rushing because we planned but it was really a surprise because of the many people who seemed rushing for new year's eve celebration.

• United States
9 Jan 17
@ridingbet
Sometimes there are last minute things that people need or forgot to buy.

• Philippines
9 Jan 17
@DianneN
i agree. that is why when i go to the grocery, i just put the things i need to buy at the notes of my mobile phone


• Philippines
3 Jan 17
indeed it is.the first day has passed, and now, traffic eased in the city.

• Switzerland
3 Jan 17
@ridingbet
Today I went out because we had to buy a new router to access the Internet, the shops were no more crowded.

• Philippines
4 Jan 17
@LadyDuck
here as well, no more traffic at malls.

• Chile
30 Dec 16
I´ll go to a friend´s house for New Year´s Eve. I hope I can buy a cake today to take. If I can´t, I won´t care much as they did not ask me to take anything. I have a champagne bottle in the refrigerator and that is going anyway


• Philippines
3 Jan 17
were you alone who celebrated the new year's eve at home if you have not gone to your friend's house?

• Chile
3 Jan 17
@ridingbet
If I hadn´t been invited there, I´d probably watch a movie in bed. My 2 daughters celebrate Christmas, but are not much inot New Year.

• Philippines
4 Jan 17
@marguicha
well, i was also glued on watching TV before midnight, because my sister did all the food prep for new year's eve.

• Australia
30 Dec 16
I don't know why people have to rush... We have a whole month to buy what we need to buy and yet we are still rushing. I try not to rush for shopping and not to buy things that I don't really need, even when they are on special and I was very tempting to do so... :)

• Philippines
3 Jan 17
i agree. the tendency even is that the store will jack up the prices if the customers rush to buy their groceries.

• Australia
3 Jan 17
@ridingbet
but dont worry, at the last minute you will find out that you haven't bought this and that and you have to rush to the shop to get them... That was what I did on Christmas Eve. :)

• Philippines
3 Jan 17
@atoz1to10
well, after we left the supermarket, we did not go back to buy those we miss, because we did not miss at all.



• Philippines
3 Jan 17
the Filipinos are actually living the tradition of rushing at the last minute. it is not good at all.


• Philippines
3 Jan 17
yes it was my dear. even though we were only 3 at home, we still enjoyed new year despite the sparklers were just that cheap item we bought. no big fireworks for us. we just honked the car to add more noise.

• Atlanta, Georgia
3 Jan 17
@ridingbet
We eat tons of junk food, play games and watch movies. It is some good family time together.

• Philippines
4 Jan 17
@mom210
it was a good time with your family. hope your new year will be better than 2016 my friend. i wish that also to myself