NO, Hillary Clinton Did NOT Have JFK Jr. Murdered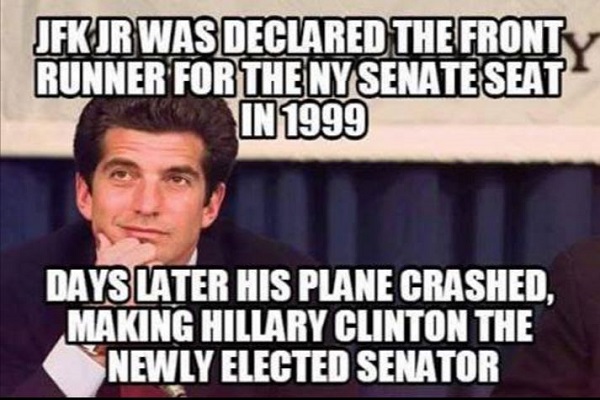 United States
December 30, 2016 6:25pm CST
Is there no limit to how low the Trumpsters will go? Apparently this bit of fake news is already kind of old news but it's new to me. It was right here on this site that I learned that Hillary might have brought JFK Jr.'s plane down because he was the frontrunner in the New York Senate race. The problem is he had only said he was considering a run and hadn't officially entered the race and by the time of his tragic death he'd already changed his mind after learning of Hillary's intentions to run.

John F. Kennedy Jr. was not a candidate in New York's U.S. Senate race before dying in a July 1999 plane crash, clearing the way for Hillary Clinton to win the seat.
5 responses

• Chile
31 Dec 16
All these tabloid news are just shameful.

• Chile
31 Dec 16

• United States
16 Mar 17
@marguicha
That's true in some cases but there are people from my area who went to the same schools as I did who support Trump and his bigoted agenda. I guess that's what scares and depresses me the most.

•
26 Aug 17
I just learned this from you and despite both being not alive yet during that time, and not having enough knowledge on the subject at hand, I find it both funny and stupid. I think they're made by paid internet trolls. There was this one guy interviewed after your elections who claimed to be one and has made hundreds of fake news about hillary during the campaigns. One article he has made said that there was a bombing in one town where Hillary was there and it was her fault. He made a pretty good argument where if you're easy to convince and not search for facts, then you'll eventually hate hillary for it. There were hunderds of millions of views in that article. The funny thing is the troll voted for her. I can't remember exactly though where I've seen it.

• United States
26 Aug 17
If you read dir297's comment below along with many of her other posts you'll see she believes everything bad ever said about Hillary, no matter how outrageous and impossible even but she could literally watch Trump commit murder and she'd either deny that it happened or somehow justify it.

•
27 Aug 17
@anniepa
I just did and I agree with him on one thing, we will learn the truth eventually. Evidences against Drumpf are beginning to show themselves, one with Don Jr and his meeting with Russian contacts, and I believe more will follow. Unfortunately, his supporters, no matter what they see or hear, will remain blinded and deaf to reality.

• Oklahoma City, Oklahoma
24 Aug 17
'Yuh meen Hillary Clinton wuzn't the Third Gunman (on the sidewalk across from the Grassy Knoll)?

• United States
16 Feb 17
People make up all kinds of atrocious things. I think sometimes some people don't have anything better to do or they try to make people out to be more significant than they actually are. I don't keep up with the media too much because of that anyone can say anything and lots of times what starts off as a hoax spirals out of control.

• United States
18 Feb 17
What really angers and frustrates me is how people can make up stories like this and others that have been brought up in this discussion and get away with it but the so-called First Lady is suing a news publication and a blogger for hundreds of millions of dollars after they printed something she CLAIMS is false, even after they retracted it and apologized. In the legal brief Melania's lawyer says outright that it's because she's possibly lost out on income opportunities she could have gotten by exploiting her position as First Lady. By the way, NOT MY FIRST LADY!!

•
4 May
@anniepa
Sorry, I would not put anything past Hiliary Clinton. She is a crook and so glad she did not become the President of the United States. I trust Trump more that I would ever trust her. I feel if she won she would e another Obama and cause us in Israel a heap of trouble.