This is how my husband cut the potatoes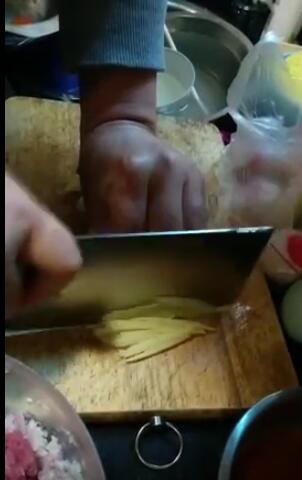 Guangzhou, China
9 responses

• United States
31 Dec
I am definitely impressed with his skills! I would slice my finger, but I have no skills, so will just play it safe going very slowly.

• United States
1 Jan
@youless
No way could I go at the speed your husband does. Wow.

•
1 Jan
WOW I just watched your video, amazing, if I was doing that I wouldn't have any fingers left.

•
1 Jan
@youless
So I'm sure your husband been doing it for some time.

• Philippines
31 Dec
If you just listen to the rhythm and not watch the video it sounds like somebody is playing the drums

nice to fry and make potato shoestring snack


•
31 Dec
That's how I slice potatoes, carrots, etc. However, I use a smaller knife. His is a big one and scary for me.

• Boise, Idaho
1 Jan
How much does he practice? I bet they cook fast.

• Boise, Idaho
2 Jan
@youless
.....It takes practice just like anything else.

• Philippines
31 Dec
Looks like he's an expert on it. Surely, he would never slice his finger with the way he does it. Good job!

• Philippines
31 Dec
@youless
With the way he's holding the vegetable he's cutting, he won't cut his finger.

• Roseburg, Oregon
4 Jan
That is a very fast way to cut those potatoes.

• Canada
31 Dec
That is amazing!

I think I would be scared but maybe with practice.