Feels A Bit Odd Today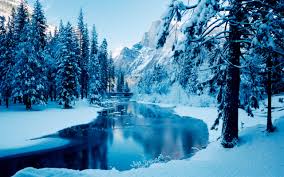 United States
January 8, 2017 8:28am CST
Because of the snow and bitter cold temperatures we are having, Sammy our pastor, made the decision to call off church services for today. For those of you who don't live in the south, this is a wise move on his part. There have been numerous accidents due to the conditions. Sammy didn't want any of us to fall and get hurt or get into a car accident because of the snow and black ice. I know other parts of the country are much more adept when it comes to handling wintry weather on this scale. We got just about 9 inches of snow. Last time we had close to that was back in 2010 and before that 1998 so you see it doesn't happen a whole lot around here. It feels a bit odd being home now instead of at church this morning. I feel as if I am late. I'm sure I'll adjust once I am finished here. I am going to watch our Christmas play then probably take a nap. I need to shovel the top part of our drive way. I cleaned the cars off yesterday and part of the driveway but it was so cold I had to stop. With it being a balmy 3 degrees right now I believe I'll wait a while more before heading out. I'll be in and out on here reading, liking and sometimes commenting on your posts. Hope that you have a blessed day. picture is from google pictures. this is my peaceful spot. have you ever noticed how everything is so quiet after a snow storm.
10 responses

• Momence, Illinois
8 Jan 17
We have had very odd weather in the US for years and years. In the Chicago area which is where I'm from I think we have had a total of 2 inches of snow on the ground this winter. And you have 9 inches strange.

• United States
13 Jan 17
Well the cold and warm fronts that move across the nation do affect the temperatures as well as either melting and keeping the rain as rain and when colder making it become slush or snow . . . It is very common and quite understandable
@fishtiger58

• Momence, Illinois
15 Jan 17
@enlightenedpsych2
Seems that every winter the south is getting more and more winter like conditions.

• United States
15 Jan 17
@fishtiger58
it is instrumental with how the term 'global warming' and 'climate change' is being seen and felt by many globally


• United States
9 Jan 17
Fahrenheit, sorry should have made that known

• Germany
9 Jan 17
@Dena91How
much is that in Celsius, please? Fahrenheit is only used in the United States as well as the Bahamas, Belize, and the Cayman Islands.

• United States
13 Jan 17
@MALUSE
you know the conversion was always something that stumped me BUT I get that my country is a little backwards . . .


• United States
12 Jan 17
You will be able to go this coming Sunday right ?

• United States
13 Jan 17
It's 69 degrees today, all of last week's snow is just a memory now. This is winter in the south. In a 7 day span we can go from 3 degrees Fahrenheit to right at 70. We had church on Wednesday evening and will again Sunday without any problems.

• Bunbury, Australia
8 Jan 17
I've read that before that everything is very quiet when there is a lot of snow.

• Green Bay, Wisconsin
9 Jan 17
3 is balmy. We had severe wind chills last week. Today it was balmy for us at 11 degrees with a 2 degree wind chill.

• Pikeville, North Carolina
8 Jan 17
It is rare for church to be cancelled, but I agree your pastor made a wise decision considering the amount of snow you had. Our priest lives right next to the church so Mass was held as usual, though I don't imagine it was well attended.

• United States
8 Jan 17
It's a little warmer than that here in NC and we didn't get very much snow, maybe a couple of inches. We canceled church also. I made vegetable soup yesterday and I plan to make a pot of chili today. The sun is shining and it's a pretty view out the window.

• United States
8 Jan 17
That's alot of snow. We are used to snow but only got a half an inch over night. It's been a pretty mild winter here so far. Its been really cold though it was 4 degrees when I woke up this morning and now it's 17 degrees. Gonna get colder and more snow yuck. Stay safe and keep warm

• Jacksonville, Florida
8 Jan 17
It was probably a good idea to cancel just to keep everyone safe. I'm sure it does feel strange to you not going though.

• United States
8 Jan 17
Yes, a snowstorm does seem to muffle all sounds. We have 7F here, so mighty cold out there.