When I was in Primary School...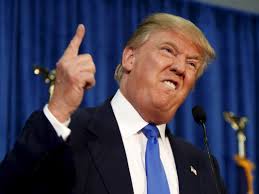 Kingston, Jamaica
January 9, 2017 8:27am CST
There was a boy called William. He was big. He was the biggest, clumsiest boy in the class. His mother spoiled him, so he thought he was entitled to everything. If he didn't get it, he would whine and snap. What people did was get him into trouble by 'pulling his tongue'. Linda would say, "William is a big baby..." in a soft voice, and he'd shout, "I'm not a baby!" and the whole class would turn to look at him, and the teacher would castigate him, and he'd go like he was about to cry. Donald Trump reminds me of William. You say anything about him, and he'll sprain his fingers typing his stupid replies and posting them on Twitter. Many years ago, a senior politician in Jamaica was attacked in print by a very popular columnist. Everyone said, she should say this, she should say that, and I grabbed the phone when the media called. "Oh, I'm sorry, the Minister doesn't read that column so can't comment." That statement was so powerful, that years later the columnist confided to me, (she didn't know my connection to the Minister or that it was me who had answered the phone) "Nothing ever hurt me as much as learning she didn't read my column." If I was a columnist in America I would make sure to write things that Trump would respond to. It's good publicity.
5 responses

• United States
9 Jan 17
That Trump guy is a horror if you ask me.

•
9 Jan 17
@tallawah
@snowy22315
Trump = Joke.


•
9 Jan 17
Trump wannabes = Not good people.




• Kingston, Jamaica
9 Jan 17

• United States
9 Jan 17
There a wealth of famous babies in America. So many babies, so little time to write about them.

• Charlotte, North Carolina
9 Jan 17
There are plenty here reading what is said about Trump. You have probably seen how he responds in tweets that are shared online.