Off to a Good Start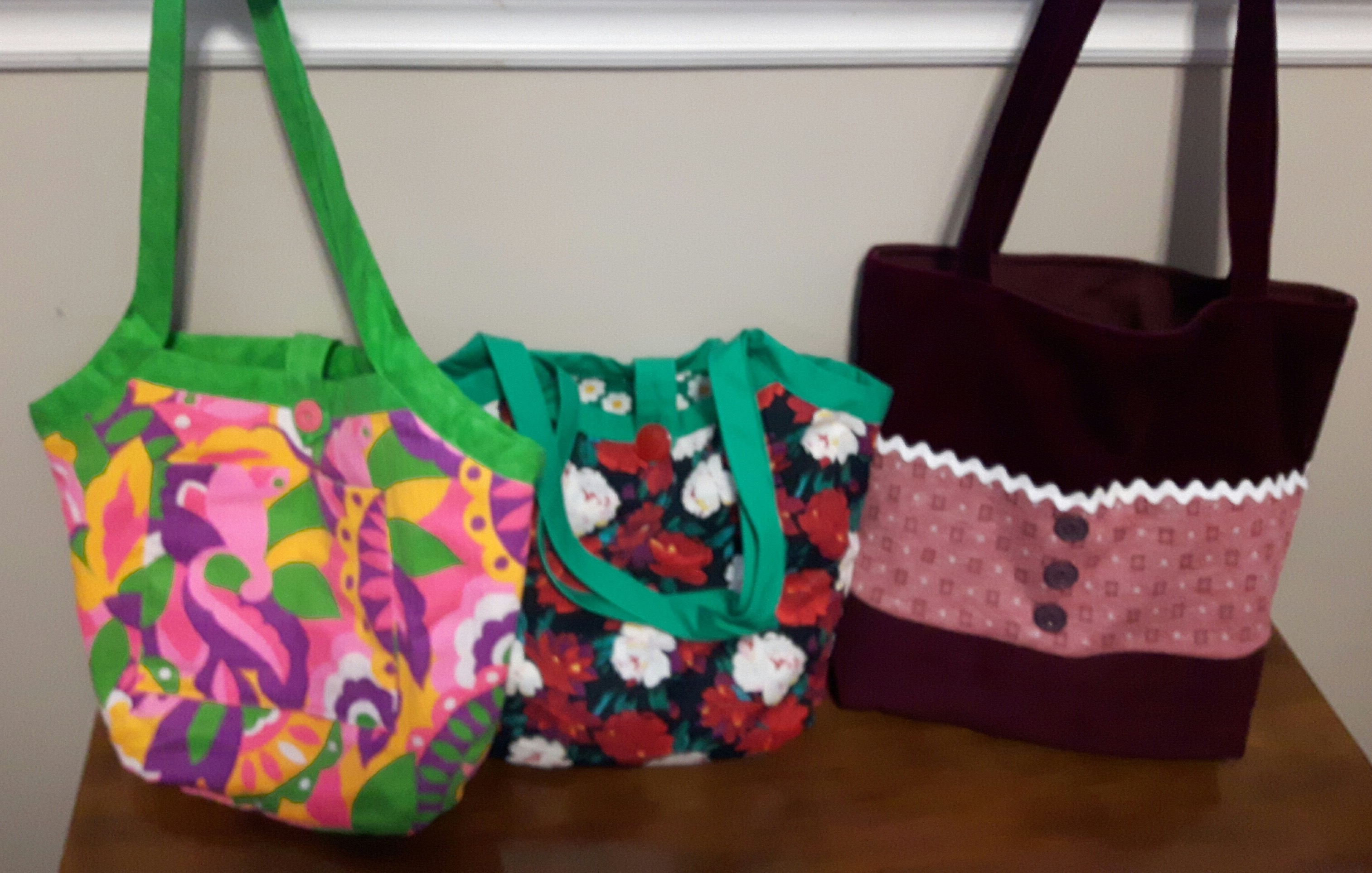 Canada
January 10, 2017 8:50am CST
UnFinished Objects (UFO's) are the bane of my existence. There are so many enticing possibilities. Everywhere I look there is inspiration. Last year I vowed I would complete at least two UFOs before I began any new projects. For a while I was faithful and followed through. Finally I gave into temptation and began more new projects than I had completed. Now we are trying to finish old projects and also start and finish some new ones. These bags were among the bags I was making with my mother's fabrics. Many were quickly finished but a couple languished in my sewing room. Just before Christmas on a drive to finish a few projects. The one on the right was finished and the other two....I had missed printing the part of the pattern I required to finish. No problem....it was a library book...I'll go sign it out. Wouldn't you know! It was already signed out to someone else. Now I placed a hold on the book. The book was in my hands two days before Christmas. My sewing room had been tidied and my motivation packed away. Yesterday I looked at the book and the due date....eeks it's due tomorrow. That was motivation enough. They are finished and the book has been returned to the library. Now on to the next project.
10 responses

• Pikeville, North Carolina
10 Jan 17
The bags in the photo are lovely. You do wonderful work. You're sewing projects seem much like my writing projects. I've got half-a-dozen stories begun and in limbo for every one I've finished. Some are just a few lines, some a few chapters, but they all wait for me to get back to them someday.

• Canada
10 Jan 17
I'm pulling them out....analyzing what needs to be done....and getting several take care of, one stitch at a time.

• India
11 Jan 17
You are not the only one with the' 'UFO' s piled up

Clearing clutter is my worst enemy.

• Canada
11 Jan 17
I like to think I'm getting better...then I start another project.

• Canada
10 Jan 17
At this point I e given them to family and a few to friends. I would love to find a place where I could sell them.

•
10 Jan 17
@Morleyhunt
You could probably sell them online - or - during the summer there are craft markets where people sell their work.

• Canada
11 Jan 17
@Kandae11
the last craft sale I tried...I sat there for two full days and recovered the cost of my table.


• United States
10 Jan 17
Oh, I love the bag on the left!!! Yep, that one would be just right for me!! The colors are marvelous!! Wait! I love the one on the right too! Come to think of it, I would want the one in the middle too!! Love those!

• Canada
10 Jan 17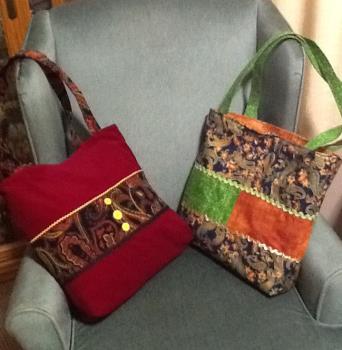 My favourite one of the trio is the one on the right. Actually, my favourite is the first one I made and gave to my sister. The one on the left.

• United States
10 Jan 17
@Morleyhunt
I need the one on the left. It matches my home's decor! Your work is gorgeous!!! The way you put those patterns and colors together is amazing to me.

• Canada
11 Jan 17
@Corbin5
I gave it to my sister. The fabric was corduroy, the burgundy from a pantsuit my sister had in highschool and the print was from pants I remember my mother wearing in the early 70s. The fabric brought back memories.


• Bunbury, Australia
11 Jan 17
Well done. I love reading about your UFOs. I have a crocheted sweater that needs finishing but it's only been sitting there about ten years so there is no need to rush into it yet.


• Canada
11 Jan 17
It's been waiting this long, what's another year?


• Bunbury, Australia
11 Jan 17
@Morleyhunt
I've started from the bottom and done it in one piece to the armholes but now I want to keep going without seams. I think I need to cut a paper pattern so I have something to work to.

• Canada
11 Jan 17
@JudyEv
that's probably a good idea. I've mocked somethings up in paper to get the correct proportions.


• Canada
8 Apr 17
I don't think I've added too many UFOs, but I have finished several....now I need to get some of my quilt flimsies sandwiched and quilted.

• United States
20 Feb 17
Those are really cute bags. I might have told you already that I am doing a 17 UFO's in 2017 challenge with a blog. It was really hard to pick just 17 UFO's from my list though. Plus there are other things that I want to get started on yet. I'm a mess LOL

• Canada
20 Feb 17
I have so many partially completed projects. I will finish many of them this year. Each day I try to work on something.

•
11 Jan 17
I'm impressed. You make beautiful bags!

• United States
10 Jan 17
Your finished bags are so pretty..I love the one on the left

• Canada
10 Jan 17
The print fabric dates back to the early 70's. My sister had a summer tunic top made from the bright colours.

• United States
11 Jan 17
I have UFO's that need my attention. I guess I best get working on them.