Some women subconciously desire to be abused.. REALLY?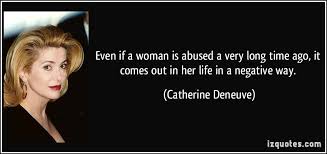 Macedonia
January 11, 2017 4:30pm CST
A close girl friend of mine since grade school went through ruff divorce. Its been a while since we have seen eachother and she startet talking about the problems she had with her ex husband. After some time talking she said something which I always knew was true about her. She said I will parafrase: "my whole life Im a magnet for abusers and bad men".. And it is so true because every ex of hers that I know was either beating her, humiliating her or using her and she was falling in love with them like crazy.. and if she was with someone who respected her and treated her nice she was cheating on them with someone that abuses her.. What is it with her I really cant understand..
8 responses

• Malaysia
11 Jan 17
I am sorry for what your friend has experienced. I can't imagine being beaten or abused, especially by someone we love. I am not sure, but perhaps there are some traits that those abusers have, and she just like those. Hope she will find someone who really treats her well and she loves him too.

• Austin, Texas
11 Jan 17
I can't understand either. But you're on the earth for a short time. It's sad to waste that precious time with CRAP! How old is your friend? Tell her to imagine herself when she's old and her body is showing the signs of suffering from constant physical abuse when she was young. If she lives. Some women don't survive the abuse.

• Macedonia
11 Jan 17
She is my age 31.. I will next time i speak to her.. thanks for the idea i think it will make her think

• Austin, Texas
12 Jan 17
@Pletvarec
- You are a true friend. She is more blessed than she knows.

• Preston, England
12 Jan 17
not every woman by any means though I have met girls who are drawn to creeps who hurt them, abuse them and steal from them many times without leaving the creep and then going straight into the arms of a similar sleazeball, ignoring the nice guys who would be much better company for them

• Macedonia
12 Jan 17
Offcourse not all women but you understand me when I say its like they are programmed to fall for creeps

• Preston, England
12 Jan 17
some ladies like to be victims, able to gain sympathy and shoulders to cry on, - they end up substituting sympathetic hugs for the deeper affection and warmth their cold insensitive partners don't share
@Pletvarec

• Macedonia
12 Jan 17


• Australia
12 Jan 17
It's sad to hear about your friend's life. Maybe in her eyes she believes that she is a no body and that's why she always fall for the bad guys (?) Does she work and have a good job? Maybe she needs to be guided and moved away from the environment she is living in.

• Macedonia
12 Jan 17
She has her own little store as for moving her in to another environment Im pretty sure she will find someone who is not ggod for her wherever whe goes.. she met her husband while we were on 10day vacation...


• Gloucester City, New Jersey
22 Oct 17
Definitely not true. BUT......sometimes events in their lives can condition them to poor treatment to such a degree that they don't believe they deserve better, so they don't seek to escape as others with healthy self-esteems might. I know because I was one of them. From an abusive father to an abusive husband, I kept going back because I wasn't ready to go it alone. Finally did, putting more and more distance between us with each move. Going on 30 years now since my divorce and my memories are still fresh, although the anger at myself and at him are gone. But the anger at men who think that physically controlling women is OK continues to rage.