Favorite Childhood Television Drama # 3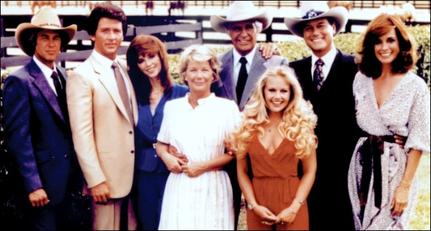 United States
January 12, 2017 9:17am CST
My number 3 favorite childhood television drama comes by way of my mother who loved to watch her "stories" as she called them, soap operas are what they are known as. I did a countdown of daytime favorite soap operas thanks to her, last fall. This soap opera aired in the evenings. It wouldn't have made my list today but because back then there were few channels to choose from, one television in the home so what the parents put on, my brother and I watched. It is Dallas but the episodes I am talking most of are "Who Shot J R? " One of the biggest who done it's of its time. I remember being in school and everyone talking about it. Who shot JR? All I could think is he was a ruthless man with many enemies, too many to choose from. This was the final scene in the 1979-1980 season. We would learn several episodes into the 1980-1981 season that it was one of his mistresses and sister in laws, Mary Crosby played by Kristin Shepherd who pulled the trigger. If memory serves me right JR refused to press charges against her for shooting him. Only in Hollywood. Did you watch Dallas? Did you get caught up into all the hype of who shot JR back in the day? I just never got into all the drama's of soap opera's. I always wanted to live a quiet life, peaceful. Those stories were just over the top most of the time. If I learned anything from them it was I didn't want any of that sort of drama in my life as an adult. I guess they did teach me something. I often wonder if she still watches any of them? I only have memories of them which make for some posts on here every now and again.
3 responses

• Los Angeles, California
12 Jan 17
Didn't everyone watch Dallas?

• United States
12 Jan 17
Probably so back then. Didn't they have a reboot of the series not so long ago? Never watched an episode of it. I probably wouldn't have back in the day if back in the day was like today, multi televisions in the home. Soaps aren't my thing. Have a blessed day


• United States
12 Jan 17
I loved watching Dallas. An addiction it became.