PLANTING QUESTION! Please help....if you only have the roots from a plant...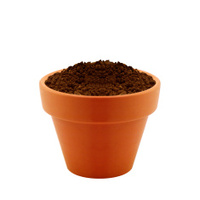 United States
January 12, 2017 9:26am CST
Hi guys, got a question for anyone into planting stuff. No, not weed, (but I'd still appreciate your input if you're into that) haha....I had a beautiful pumpkin plant seedling. It was doing great until I noticed small, black specks on the underside of a few leaves....some type of bugs....aphids/spider mites/list is endless. I tried spraying with alcohol solution mixed with lots of water, and then hurried up and sprayed it all off with regular water so I wouldn't do too much harm to the plant. I then picked it up (STUPID) from the bottom and some of the soil attached to the roots to transplant it into a better pot because the one it was in wasn't draining too well. I should have waited for the plant to dry better, it was too limp and the stem cracked right below all the leaves. I felt like I broke its little neck, right in my hand. I got so sick about it, I almost passed out.

I LOVED THIS PLANT. It's special because the seed just showed up in my pocket one day, so I planted it....nobody knew what it would be. And then I realized I was growing a pumpkin seedling. I tried every method to re-attach it, but it was just too limp and it kept falling over. Toothpicks, tape, string, nothing was working. So basically I was left with only the roots, and a small piece of the stem, still attached to the roots. I repotted it anyway, but that poor little stem was just looking worse and worse, drying up at the tip, and then slowly losing all its color. In a panic, I pulled the roots out and saw that they were STILL ALIVE, looking really good, actually. So I snipped away the old, dead, drying parts of the stem, plus this "black area" that just didn't look good to me, and put only the roots and just a small stub of the stem that was left in some potting soil. The roots are now beneath the soil, plus, I planted an identical seed right next to it, in the hopes of maybe the 2 combining (?) or helping each other along. The roots are still alive. And in the soil. And I'm watering them (plus the new seed with it) and keeping the pot on a heating pad and giving it direct sunlight/daylight every day. Does it seem like the roots might still grow into something? I'm pretty sure the new seed next to the roots will probably sprout, but could the roots from my other plant also start growing a new stem and just pop up one day? Or are the roots actually being buried and suffocated because I put them in potting soil and then some soil on top of them (just a little.) I just wanted to keep them safe and secluded, was too worried they'd dry-out and die if I kept them exposed to air. WHAT do you think about what I've done here? Even if I get a double-plant out of this, meaning, maybe the new seed could bind with the original roots somehow and I've got some kind of cloning project going on here....that would be fine with me. I'm just trying to get my old plant back, even if it's "joined" with another one,

I don't care. I just want it back. Thanks for any help or info, I know this is a toughie.


Update: 1/15/17 Nothing is happening yet. Update: 2/8/17 A new plant is growing, but I think it's just from the new seed I planted alongside the original roots of my first plant. So I guess it's like a sibling plant, but still not my original. Good news but not great news.


7 responses

•
12 Jan 17
I'm not sure what you have done really, but if a plant still have a good root system and one nice healthy stem with a leaf attached to it, it will grow again. No need to panic if it gets a little dry coz its just adjusting to its condition. Just dont over prune it or over water. Take out the dry part but leave a little something behind. I also tried what you did. Plant it with another plant. I think it was a good support. When ever I'm not sure if the plant I pulled out will survive I always join it with another healthy plant. So far, they were all good and I make sure that everything are establish before I do a replanting.


•
13 Jan 17
@Druscilla034
Good question. Mine thrive. I thought that the "sick plant" will be a goner but it didn't. I'm not sure about your case though. 'Coz you planted a seed. My plants didn't connect. After 6 weeks of good health I separated them. I hope your plant gets better. I planted pumpkin last year. It didn't yield any pumpkin though, but it flowered alot. And the neighbors harvested them. I just found out that its edible. The flowers I mean. :)

• United States
13 Jan 17
@diosabella
OK, got it. We'll see what happens. Thanks 4 your help!

• United States
12 Jan 17
It could still grow, I have junk come back from the roots I have tried to get rid of for years.

• Cambridge, England
13 Jan 17
It's just possible that the plant may grow another shoot but rather unlikely for a pumpkin (an annual plant) to do so. There is no harm in trying, however. Since you describe the stem as weak and limp where it joined the root, it does sound as though the plant was affected by stem rot, in which case, it's very unlikely to grow back. Also, although the new seed will very likely sprout and grow, it may also catch the same disease because it is in the same pot as an infected plant. Gardening is all about trying things out and learning what works and what doesn't (and, if possible, why!).

• Switzerland
13 Jan 17
Be sure to NOT over water, because if only the roots are left they need very little water. Keep in a dry place, not too cold, but even not too warm and wait, now we are in winter, if something has to come out again, you will see a new plant starting in spring. In early spring, use some fertilizer and good luck.

• New Delhi, India
12 Jan 17
I think it can grow back well provided it gets favourable conditions

• Jamaica
12 Jan 17
No worries...it can still grow just don't put too much water when not necessary. Just continue to watch it.

• Momence, Illinois
12 Jan 17
It might still grow what do you have to lose.