Almost 3 AM, time to start over again...

United States
January 15, 2017 3:01am CST
Actually, His Lordship, Ruler Of The Universe, The Evil Demon Spawn Scar woke me up an hour ago to go out. And so out He went, and I started the Morning Coughee Ritual, and did the Morning Coughee Moment video, and then I posted it to facebook, and then I came here... ...and here I am. DAMMIT TRUMP!!! Y'see, since Obama has been to blame for everything the past 8 years (according to some people) I am now going to blame Trump for everything...although how long he gets to sit in the Big Chair is yet to be known...
8 responses

• Cambridge, England
15 Jan 17
Some are predicting that he will be impeached before 18 months of his term are out. Personally, I can see many other ways in which his term might be ended early. He's not young and he's a red-faced bull-in-a-china-shop sort of person - the sort who is prone to strokes and heart attacks without warning. Then again, there are quite a few who'd like to see him in their gunsights. Who can say what 2017 holds in store for America and the World? It would only take one mighty eruption of Yellowstone (or even, perhaps, the volcano under Naples, which is similarly poised to explode) to take the world back into, if not the stone age, certainly VERY dark times!

• United States
15 Jan 17
Trump is a 'wild card' in the deck. From what I have seen of him (so far) he expects everything to be his way, and if anyone is opposed, he throws a tantrum (I had to 'follow' him on Twitter...not that I use the site, but I wanted to see first-hand some of the stuff he is saying). I am concerned at the moment about the 'rush' to dismantle the Affordable Care Act when there is nothing, it seems, ready to take its place. Are people under the assumption that everything is 'magically' going to return to how it was before? Are people even thinking? The U.S.A. (perhaps the world) totters on the brink of madness...and they assume Trump is their 'salvation'. What I wouldn't give for a crystal ball in proper working order about now...

• Italy
15 Jan 17
There are so many other factors - elections in France and then here in Italy and the immigrant problem . which along with the uncertainty is going to make it a rocky ride for all concerned: us everywhere.


• Italy
15 Jan 17
At that time of day I never know whether to say good morning or good night

You think he will not stay long?

• United States
15 Jan 17
He'll be in and out until about 7 PM tonight when we go to bed.

• Italy
15 Jan 17
@JolietJake
I meant Trump

I already know that Scar is undecided about where to be - or is concerned that you get some exercise.

• United States
15 Jan 17
@mysdianait
It is hard to say how long America will tolerate him.


• Canada
15 Jan 17
We wait......we watch......no one predicted that Obama would survive his time in office. It does matter who is in the leadership chair....they seem to age, rapidly, when they achieve the position.

• United States
15 Jan 17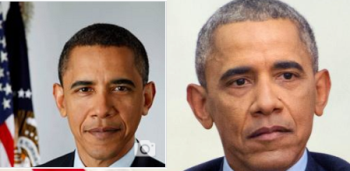 Here's what 8 years did to 'O'

• Canada
15 Jan 17
@JolietJake
that seems to happen to the leaders of our country as well. I can't imagine how this will affect an already old man.

• United Kingdom
18 Jan 17

• United States
15 Jan 17
Yes I too was up at 3am. Coughee mmmm. It is always so nice and peaceful at this time.

• United States
15 Jan 17
This is the period I get the majority of my myLotting done, 5-6 hours on weekdays before work, and who knows how long on weekends.

• United States
15 Jan 17
@JolietJake
Its so nice, I love the very early mornings before dawn..I too get a lot done in this time. No one bothering me.


• United States
15 Jan 17
I honestly do not think many of the people that voted for him really understood what they were voting for.

• Switzerland
15 Jan 17
@JolietJake
I am still wondering why so many people voted for him.


• United States
15 Jan 17
He pretty much decides when it is time for us to go to bed and time to get up...I surrendered long ago to trying to change things.

• India
15 Jan 17
Actually I was really shocked when Trump won the elections. And the way things are unfolding you never know how long he can hold the chair

• United States
15 Jan 17
The man is like a kid throwing a tantrum at times.

• Centralia, Missouri
16 Jan 17
I think it will be easy to find things to blame Trump for.