My 600lb life

Agate, Colorado
January 16, 2017 3:31pm CST
I don't know if any of you have watched this show called 600lb life but my boyfriend and I started watching one day and it's a very addicting show. It shows how they got to the point they are now and a lot of them lose a lot of weight. I find it inspiring to eat healthy and go to the gym because it seems so easy to end up like that. Anyway I'm watching one now where the guy weighed 919 lbs and the doctor told him to change his diet and him and his mom didn't follow it and he actually ended up being over 1000 lbs. His mom enables him and it's sad to see. I would say everyone should check this show out because it'll show how easy it is to get to that point or how easy it is to help someone get to that point and enable them. This show is super addicting.
6 responses

• United States
16 Jan 17
He ended up losing it though right? I don't think they show cases that aren't successful. I've watched a few episodes of it.

• Agate, Colorado
16 Jan 17
He did lose some, he ended at 583 after being able to get the surgery. I think they've shown a few where the people didn't lose enough to get the surgery though I'm not positive.

• United States
16 Jan 17
@skydream
It is so sad that people can get to this point. I had an aunt once (she was my late uncle's ex wife) who was very large. She probably would have qualified for the surgery, potentially without having to lose weight though I am not sure. Either way, she wasn't aware she was over weight. I think that's the saddest bit of all. It's great to be happy with your body, but being overweight and not knowing it... Just so sad.

• Agate, Colorado
16 Jan 17
@ScribbledAdNauseum
That is very sad! I always feel bad for them. My aunt was like that, she never knew how overweight she was and if anyone tried to help like get her to be more active or eat less she took it very personal and would not talk to them


• Italy
16 Jan 17
I love these documentaries, once I'm tired of watching "Intervention" I'll be back to 600 lb life.

I used to have the binge eating disorder, so I can relate to most of the situations.


• Agate, Colorado
16 Jan 17
I haven't seen intervention but I might check it out. I'm sorry about that :/ I hope it's all going good for you now

• Italy
16 Jan 17
@skydream
Yes, it had never been too serious weight-wise but now I have control over food and find no more pleasure in feeling too stuffed, thankfully.


• Agate, Colorado
16 Jan 17
@sabtraversa
That's really good! No one can know how hard that would be to do without going through it so thats very good for you! :D

• United States
16 Jan 17
I watched one season of it and stopped it got me sick to see some of them. I had the same operation and lost over 100 pounds. I did not get like that out of pure greed and laziness. They should cancel the show at this point. Their are some who want change and that they can do off the tv screen.

• Agate, Colorado
16 Jan 17
I can understand that. I see a lot of the people on the show get to the point they are just because they don't do anything or when they're on the show don't even do things they're supposed to to lose weight or get healthy.

• United States
16 Jan 17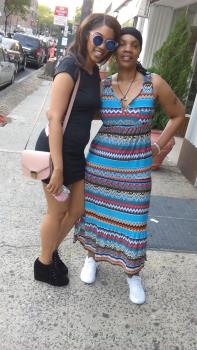 @skydream
It's a horrible struggle to stay in shape and eat right. I can't afford the best I would like. I do my best though. I have been at my goal weight for over a few years. I have thyroid and medication that causes weight gain. But I am still under 200 pounds. I want 20 pounds down just to cushion me for when they increase my pills. I was as small as my daughter on the left. But now I am two sizes bigger on the right. No big deal compared to where I was.


• Banks, Oregon
16 Jan 17
I have never watched that show, to get to that point you would have to do nothing but sit and, eat.