Exotic flowers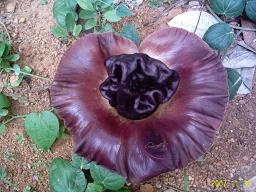 India
January 17, 2017 4:40am CST
This flower just emerged in our garden and I did not even know it was a flower until I dared to go a bit closer to examine it as I thought that it was snake curled up. That was a yam flower that sprung straight from the ground and in a few days it whithered producing a healthy yam plant. I have put it under the category of exotic flowers as for me it was an exotic flower. what exotic flowers do you have in your garden?
10 responses

• Cambridge, England
17 Jan 17
This is the Elephant Foot Yam or Stink Lily. It's not a relative of the true yam but a member of the arum family. The flower smells like rotting flesh when open and is pollinated by insects which are attracted by the smell. It is a native of India, so it isn't really an exotic plant for you, though I don't suppose it's common. You can eat the buds (before they open as flowers) and the tuber can be cooked like a yam. It also has medicinal properties. I don't have anything like this in my garden but our local Botanic Gardens has several of its relatives from Malaysia which grow very large and impressive flowers, rather like yours only very much larger (as tall as a man) and, like yours, give off an absolutely repulsive smell of rotten meat to attract the insects which pollinate them.

• India
17 Jan 17
I said it was a yam flower but for me it was exotic as, though I have yam growing in my garden it never flowers the way it did once. I have no idea whether it smells bad and that is news to me. Here is a link of the type of yam that we have here. This yam is native to this place. Is there any other yam?

Elephant Foot Yam Cultivation: It is one of the most profitable tuber crops cultivated in India. These tubers are consumed as vegetables after thorough

• Cambridge, England
17 Jan 17
@allknowing
There are many different varieties of plant which are called 'yam'. Most of them grow as vines above ground and produce edible tubers below ground. In the US, sweet potatoes are sometimes called yams and in New Zealand an entirely different species of tuber is also called 'yam'!

From Wikipedia, the free encyclopedia Jump to: navigation, search For the vegetable sometimes called yam in the United States, see sweet potato. For the vegetable called yam in New Zealand, see Oxalis tuberosa. Yams at Brixton Market in London Yam is the c

• Cambridge, England
17 Jan 17
@allknowing
The giant relative of your yam plant is described below. As I say, our local Botanic Garden has several specimens, one of which flowered last year. When I visited it, it was fading and had lost most of its odour but it was still very impressive! When it's not in flower (which happens only once in several years), it grows into a tree very like your elephant's foot yams but MUCH taller!

From Wikipedia, the free encyclopedia Jump to: navigation, search Amorphophallus titanum Conservation status Vulnerable (IUCN 2.3) Scientific classification Kingdom: Plantae (unranked): Angiosperms (unranked): Monocots Order: Alismatales Family: Araceae Su


• United States
17 Jan 17
That flower is beautiful. Nothing growing right now. It is still too cold around our area.

• India
17 Jan 17
Waiting for your garden to come to life.

• United States
23 Jan 17
@allknowing
I am looking forward to the Spring months. I really want to concentrate on our garden this year.

• India
24 Jan 17
@Shellyann36
I admire you guys for your patience in that you need to redo.


• Canada
17 Jan 17
My garden is frozen right now but my garden is just for herbs, the flowers on the herbs are tiny, your bloom is gorgeous, and the though of a snake gives me the creeps...


• India
17 Jan 17
From a distance it did look like a snake that had coiled up


• Canada
17 Jan 17
@allknowing
that would be scary for me...




• India
17 Jan 17
@PainsOnSlate
I would never have imagined that it was a flower until I went closer.


• India
17 Jan 17
I did not smell it but if you read through
@Owlwings
response you will get more info on this.

•
17 Jan 17
@allknowing
thanks its nice information. actually that plant is common in our country. But i didnt get to see the flower yet

• India
17 Jan 17

• United States
17 Jan 17
That's beautiful! I don't know of any exotic flowers in eastern NC.

• India
17 Jan 17
There could be. Every country will have something in that category.


• India
17 Jan 17
I too thought and think it is weird (lol)

• Banks, Oregon
17 Jan 17
Very cool flower. I have never seen one quite like that before.

• Momence, Illinois
17 Jan 17
It's beautiful and I wouldn't have know what it was either.

• Philippines
17 Jan 17
Heart-shaped looking flower you got there.