Real Judges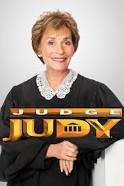 United States
5 responses

• Greencastle, Indiana
18 Jan 17
she's one that DON'T PLAY you either have your S*** together or don't waste her time. here's a case that will explain just how she is about case's with teenage kids watch.

judge judy ?best cases? . ever episode : link more videos : https://www.youtube.com/playlist?list=PLMMQCDwY9noBqeNaS7MrGK6WFtIbbtzqf

• United States
18 Jan 17
love those cases about teen and kids.. she knows how kids are and have no sympathy. lol


• United States
18 Jan 17
I know right she do look like she gonna come off that stand one day dealing with dummies, lol

• United States
18 Jan 17

• Peoria, Arizona
17 Jan 17
I used to watch her show a lot. She is really good even though sometimes it was a little annoying how she would interrupt people. Everyone deserves to explain even if it is stupid haha

• United States
18 Jan 17
yea sometimes you cant talk without her interrupting that is the only thing i think is rude but hey anyone that goes to her knows how she rolls.

• Wausau, Wisconsin
17 Jan 17

• United States
18 Jan 17
she is .. outlasted most judges on t.v.


• United States
17 Jan 17
which could be and is true.. But as well listening to her alot.. its common sense and the things you need to have to see her or any judge. I laugh at some guest because it sounds scripted at times. lol overall she means business... she been on t.v. for a min.. she getting her ratings.

• Malaysia
18 Jan 17
@sophie1911
I wish I can see her in action but we don't get the show here in our country. Perhaps I can find some way to watch it online.

• United States
18 Jan 17
@UmiNoor
yes mam check it out online youtube judge judy