Do people ever suck the life right out of you?

United States
January 18, 2017 5:35pm CST
I must admit I never planned on saying such a thing. It does seem true for me though. I kind of feel what others do. I wouldn't really call it empathy, but I guess you could. Anyway, there was a lot of things I use to enjoy and different people took the pleasure out of it for me. For example, I liked getting on mylot and then on facebook too. Someone decided to read my facebook posts and then turn it around to make it look like I was posting about them. Of course, I was not and I thought it was absolutely hysterical she thought my world revolved or even included her in such a manner. LOL That is a narcissist for you. Then because of two other people, I can't even have a yard sale in peace at my own home! They make public displays and I just don't want to be bothered. Then there are the relationships over the years where you think you are the one and only, just to find out you don't mean anything to the other people. Now I have decided to take my life back. It's hard, I can't deny that. What's worse is all the manipulators trying to sway me or make me feel bad. People just suck the life out of me! Thankfully I have two angels in my house that breathe life in me every day, otherwise who knows what I would be doing... Probably tucked into my bed with the covers over my head.
8 responses

• United States
19 Jan 17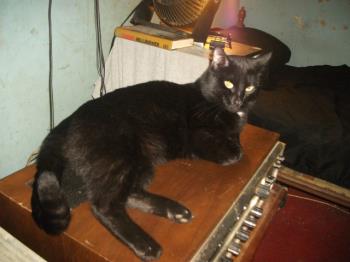 I have Scar. Not real keen on people these days. And tucking the covers over my head does no good with him anyway, he just reaches under and bats me in the face to say he wants to go out. It's enough.


• Madurai, India
5 Sep
Yes, most people do it but we never notice. It is not what they intend to do but because they know so little about us. I used to have a cat but now we have nothing in this apartment.

• Madurai, India
5 Sep
@mommaj
I sometimes think of what it is to have a cat in a high rise apartment. Then, I decide it would be tough on the cat. But, then maybe it will be more adventurous.

• United States
6 Sep
@gofsey
All my cats have been indoor animals. They don't seem to mind. I guess if you live in a second story apartment or higher, the cat might not enjoy looking out the window. Who knows though? Cats can probably find flying bugs or birds to watch, as if they were on the ground.


• Philippines
19 Jan 17
Luck you for having those two angels.


• Jacksonville, Florida
19 Jan 17
People can be exhausting at times but without the bad ones the good ones wouldn't seem as good to us. And of course there's always a lesson to be learned through any bad experience we go through. Sometimes there's no option but to be around people who suck the life out of us BUT once their gone the amazing peace that comes after their gone is incredible. =)

• United States
19 Jan 17
I have noticed the peace, but it is usually because you don't have to deal with them anymore. LOL I will take the peace however I can get it though. The lessons are plentiful, so I should be the smartest person around. LOL Sometimes it is just the fact that I think everyone has good in them. It is truly a shame to find out differently.


• Malaysia
19 Jan 17
I'm sorry you went through all that. On the bright side though, I'm sure you've learned a lot from those experiences and wouldn't let others take advantage of you in the future. As for the Facebook incident, it's kind of hilarious how people could assume such things. They must have thought they're super important for people to write about them.


• Philippines
19 Jan 17
Go and take your life back and these people aren't worth your time. You deserve to have better friends.