Getting Ready to Lay My Work Van to Rest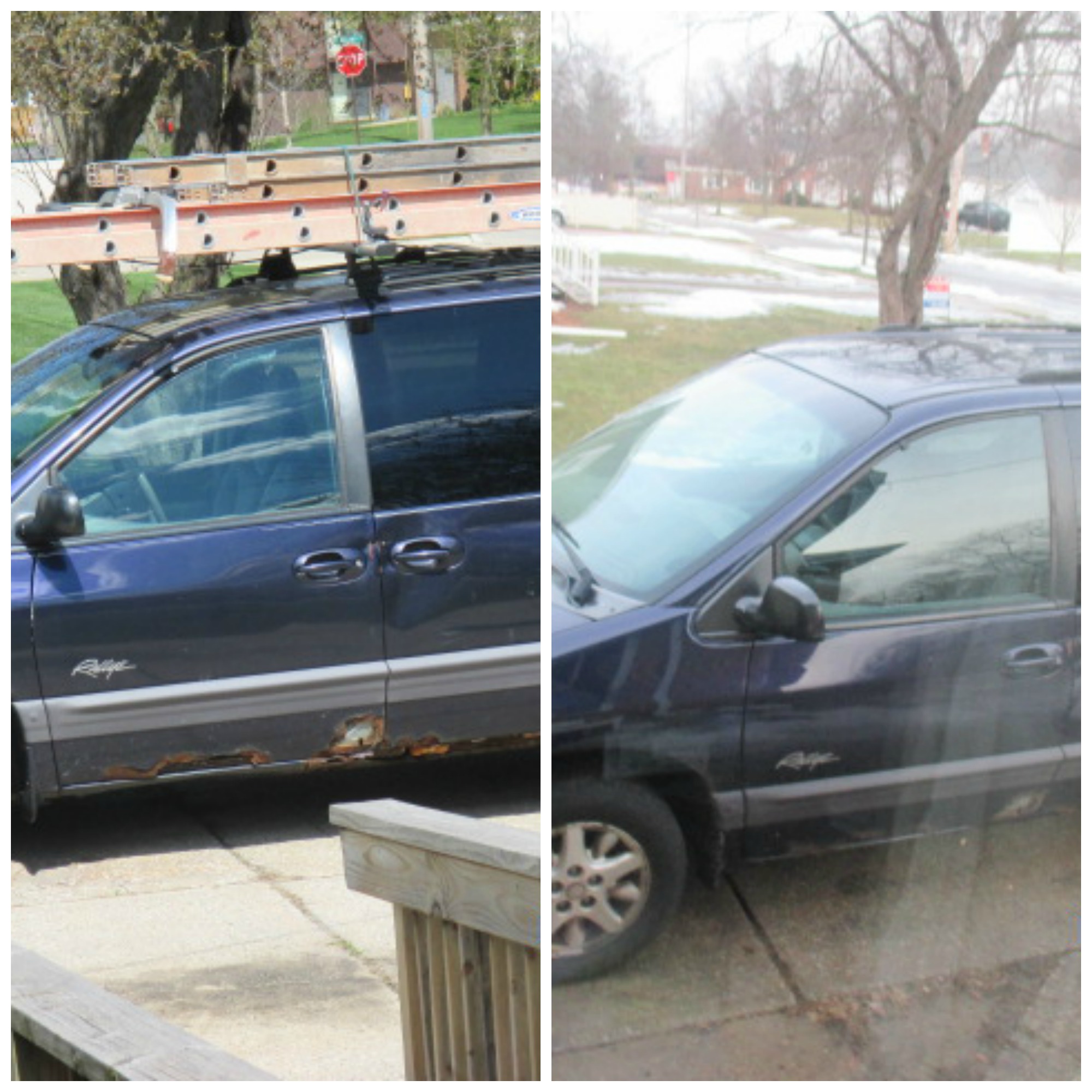 Midland, Michigan
January 19, 2017 8:32pm CST
Today was a productive day even though the sun forgot to sprinkle it's rays on us. I did two small window jobs with my one employee that brings the bus to town from thirty minutes away when we have work planned. The window cleaning took just two hours to finish. I've been thinking about removing the ladders from the top of the van because we won't be needing them until spring and because I need to work toward finding it a new home for its last days on earth. We purchased it in the fall of 2007 when it was ten years old, so now it's twenty and some odd months. Each of the past several years I hoped to get one more year out of it until I could afford to buy another newer/used van again. Last month when I took it in to check the breaks and shocks I found it needed so much work that it would be ridiculous to put the money into it now. We got the windows done with about twenty minutes to spare before he could catch the return bus back home, which wasn't enough time to unload the ladders, but I found out that he'd planned on staying in town until mid-afternoon anyway to have lunch with a friend in between her two jobs. So that gave us several hours. He unloaded three of the ladders, the smallest one we'll be keeping in the garage. He then said he could work on taking off the roof rack which I figured might cost me a pretty penny to get it done elsewhere. That rack cost a friend of ours, supposedly $500.00 to purchase and install. With Allen wrenches he was able to get it detached from the roof of my van. If the roof rack won't work on the next vehicle, I'm hoping we can get something by selling it instead. In the left image all you can see is two extension ladders one on top of the other, but on the other side of the van is two more ladders a 12-ft step and a 6ft step. My husband isn't looking forward to sharing his car with me, so I'll probably pay the January insurance on it yet and by mid-February take it to a junk yard or find someone that will purchase it for the return they may get from the metal. Before it gets very warm this spring we'll have to find a replacement vehicle.
9 responses

• Canada
20 Jan 17
I have a very old rust-bucket Van that I love. It owes me nothing, it needs very little work yearly and we lucked out. Bought it used for next to nothing and I intend to drive it until it falls apart because of the rust...then my son in law says don't get rid of it, when you want it gone let me know I have a friend who will fix it for me to use on the farm..We also have a brand new one of the same make and model and its great too...I need a van for my art especially when going to a big show... Good luck finding another...


• Canada
20 Jan 17
@MarshaMusselman
I didn't notice your rust, but yes it looks like mine, the back door is the one with the most rust, we covered it with block duct tape and so far so good...

• Midland, Michigan
20 Jan 17
When we're ready for the replacement, I'm hoping we can find something that doesn't cost too much. I don't want to take out a loan.

• India
20 Jan 17
@MarshaMusselman
may Allah helps you and showers blessings upon you and your family..

• Preston, England
20 Jan 17
always sad to have to part with a favourite vehicle - hope you get a great replacement soon

• Midland, Michigan
20 Jan 17
I'm hoping to wait until April or just before to need one, but that's the month we begin getting busy again with our business and our guys can do the work with my supervision around that time. I'll be off work for three months of my cashiering job. We could get another vehicle now, but I'm waiting until after my surgery to make sure we can afford the necessary bills first.

• Preston, England
25 Jan 17

• United States
26 Jan 17
It's always nice when we get our moneys worth out of our vehicles.

• Midland, Michigan
26 Jan 17
Yes it is. For the past three years I hoped to get just one more year and then the next year I'd say the same thing. So, if it isn't going to make it one more year, I'll deal with it. I'd rather let it go gently now rather than put a bunch of money into it and have it die anyway next year.


• Midland, Michigan
25 Jan 17
In the northern states you can't get away from the rust completely and more vehicles are prone to it than others. It doesn't help having ladders stored on top for that means I can't take it through a car wash. Doing it myself is my only option. I'll have to make sure to have an employee do it for me with my next vehicle so it doesn't rust out the same way.

• United States
24 Jan 17
My CR-V is 16 years old now. Being a Honda, I'm hoping to get several more years out of it as it only has 114,000 miles on it. We'll see.

• Midland, Michigan
24 Jan 17
Mine has well over 244,000. Things are starting to fall off it too, but on the inside. I plan on driving it for a couple more weeks before finding it's next home. I'm hoping it will bring in a bit of cash if I can find the right place to take it even though metal isn't bringing as much in right now or so I've heard.

• Charlotte, North Carolina
21 Jan 17
You sure seem to stay busy.Hope you get a vehicle that works well for you when you replace this one.

• Midland, Michigan
21 Jan 17
That's our hope too. I'll be having two different mechanics check out whichever vehicle(s) we are considering. One of them does it for free and will go on a test drive with us to see what they can hear out of the ordinary. The other one puts it up on the rack and looks things over that way. They do charge twenty dollars per vehicle looked at, but it's helpful anyway.

• United States
20 Jan 17
It is always sad to lose a vehicle that has provided years of good service. I hope you find another.

• Midland, Michigan
20 Jan 17
A gal that works with us is now living with her mom who happens to have a ford 150 extended cab that looks brand new even though it's a 2002. She only wants three grand for it, but if we took that we'd need to figure a way to get a rack to be able to have our ladders on top. So, we're keeping that in mind while still looking elsewhere.