Gratitude Challenge Day #812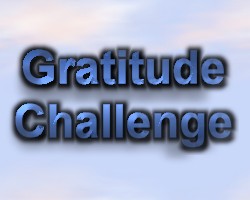 United States
January 20, 2017 9:39pm CST
Well hello there, everyone. I haven't been online as much today, but I'm online now, and I decided to post the Gratitude Challenge for today... 1. I got paid today. 2. My magenta hair dye arrives today so I'll try to re-do my fronts over the weekend. 3. I went out with my best friend and her little one today. 4. I found an $8 pair of jeans at Walmart, and a few necessities. 5. Watching Donnie Wahlberg on Blue Bloods, which has been a good episode so far. Alrighty, I'm in the middle of Blue Bloods and chatting with people via Twitter, so I'm out. You all have a great weekend and take care. Photo Credit: I made this graphic using PhotoImpact 6.
5 responses


• United States
22 Jan 17
@patgalca
Right. I turned to my Mom like "I don't feel bad for him." I doubt Danny cared much either consider the jerk beat his son with a baseball bat. They didn't show previews for next week's episode, so does that mean it's not on?


• United States
21 Jan 17
Sounds like a swell day for you. I love walmart bargains.

• United States
22 Jan 17
@tammys85
I am going next week and I would like to know the name for me to buy me one too. I hope they are still the same price.

• United States
22 Jan 17
@sharon6345
They were No Boundries (NoBo), in the juniors section, but various sizes/styles. They were all on a table at the Walmart I went to, so I would check the tables and hanging up. It looked like $7.78 was the regular price.


• United States
5 Apr 17
I havent bought jeans at Walmart in forever. But i do know theyre cheaper than lots of places. And $8 is awesome

• United States
5 Apr 17
@tammys85
last time i went to walmart i saw a few pairs i liked but didnt try them on cuz i didnt have the money for them so to me there was no point to try them. Lol

• United States
6 Apr 17
@Courtlynn
Gotcha. I wanna eventually get another pair of the $8 ones, but it's not at the top of my list right now.

• Green Bay, Wisconsin
22 Jan 17
A great day indeed. Payday and Donnie Wahlberg. Great match-up.

• Green Bay, Wisconsin
23 Jan 17
@tammys85


• India
21 Jan 17
Oh great..That means you had a great time today..