Heat - it burns.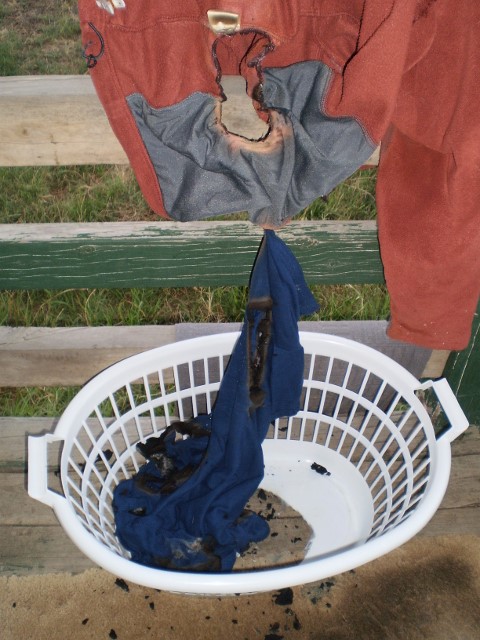 Australia
January 22, 2017 12:38pm CST
The basket of washing was heavy as I brought it in from the line. Placing it on the stove I told myself I could fold it all and put it away "later'. I made a cuppa and again sat at the computer for a break and to while away some time before my next chore. Sniffing, I wondered who could be burning something in such hot weather. The smell of something (paper?) burning was not going away. going to the front door, I opened it to look out and see if there was smoke. Nope, just fresh air. I made another cuppa and headed for the back door - same thing when I poked my head out. Fresh air but inside the smell was stronger and I had to cough. At this time I noticed the red pilot light on the stove was on! There was no smoke it must have just been acrid fumes as the plastic basket melted and my nightie and jacket smouldered. In the nick of time, I quickly moved the washing not burning and tossed the rest out on the landing and doused it with water. There were no flames but the water made lots of smoke. Yuck! I knew I'd been lucky and I knew I should have turned the stove off at the wall like I normally do. Be safe folks and take care of you. There doesn't have to be flames for the destruction to occur very quickly.
9 responses

• United States
22 Jan 17
That could easily have gone bad to worse.It's a wonderful thing you decided to check with outside first.

• United States
22 Jan 17
@MsTickle
and you could have not been able to control it. Yes that is good you had that smell.

• Australia
23 Jan 17
@sharon6345
I have a fire blanket next to the stove. Whew!


• Bunbury, Australia
23 Jan 17
I hate smelling smoke and not being able to locate its source. I usually go round the house inside and outside sniffing away until I can satisfy myself that all is well. I'm glad the consequences weren't worse.


• United States
23 Jan 17
yikes


• Malaga, Spain
22 Jan 17
The cat accidentally knocked one of the rings on the electric hob early one morning years ago. An aluminium teapot, with a plastic handle and a tea cosy, sitting on that ring, were rendered into a puddle of molten aluminium, a spout and loads of sooty, foul burnt plastic-smelling black marks on the walls... thankfully, as we slept in the room above, nothing worse.

• United States
22 Jan 17
Damn...glad you caught it before it got into a full fire


• Waikoloa, Hawaii
19 Oct 17
god what happen in that??

• Garden Grove, California
23 Aug 17
you did learan something this day check the stove before putting asnything down on its wow you were lucky

• Centralia, Missouri
23 Jan 17
awe, I am sorry you lost some clothes, but glad you are safe and the home didnt burn down!