Is it REALLY my last chance? Does that mean you will stop sending me emails now?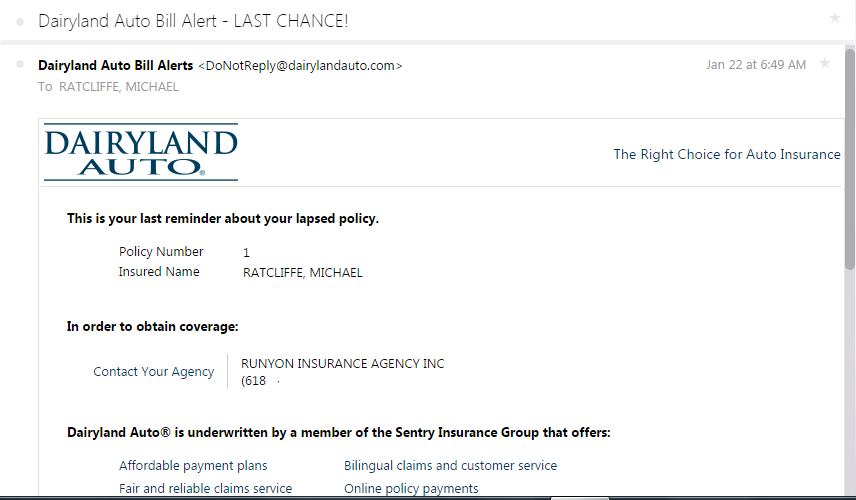 United States
January 23, 2017 4:01am CST
So there I was, paying about $43 a month for insurance. Had been since 2009 or so, I thought I was getting a good deal (liability). Then I had a small incident in July...debatable whose fault it actually was, no major damage to any vehicle, but I got the ticket. So there went $125.00 to pay it. I didn't think much more of it. Then in October, when my insurance came up for 6-month renewal, I saw they raised it to $65.00 per month. Nope. I just can't afford it. Another $264 a year when I make less than 9k total is unacceptable. So I went insurance shopping...and found better coverage with a better company at less than half the previous monthly payment.

So I went with it, and let my old policy lapse. "That's it" I thought, "done with them". Nope.

I've been getting emails for the last 3 months from them telling me my payment is overdue.

You would think after raising my rates, and then me not renewing the policy, they'd get the message.

So today, I got my 'last chance' from them. I sure hope it is.

10 responses

• Italy
23 Jan 17
You didn't inform them that you no longer would be their client?

• United States
23 Jan 17
They don't have an area on their website to 'cancel'. A payment to renew the policy was due by November and I had paid on time every time for 7 years...I think they should understand what not renewing the policy means.

• Italy
23 Jan 17
@JolietJake
Yes it would seem pretty obvious. Although here, unless specifically stated, apolicy would continue to run and the outdated payments would require payment with the interest too up to the date in which a formal cancellation was received.

• United States
23 Jan 17
@mysdianait
My policy was for set 6-month periods with monthly payments. Payment on a new policy signified agreement to acceptance. I
wish
I could send them one of the $21 per month statements from the new company. Maybe then they'd get the point.




• United States
23 Jan 17
They have an employee wasting their time.


• India
23 Jan 17
@JolietJake
... Whatever...as long as the employee gets paid..lol


• United States
23 Jan 17
I need to just blacklist their email address

• Centralia, Missouri
23 Jan 17
overdue on something you didn't actually renew is amusing!

• Italy
23 Jan 17
You don't appreciate their efforts, eh?

They're worried about you, they still can't believe you betrayed them.

I imagine the employer being drunk and sending you emails about the "good times".

• United States
23 Jan 17
sounds like one of the companies my bro had. one of them reported "lapsed insurance" to the cops as well..when he was 10 minutes late coming in to make the payment.

• Momence, Illinois
23 Jan 17
I'm not sure this is right, but when I tried to do the same thing with my house insurance I was told that I would have to verbally cancel the policy or I would keep getting charged and eventually sent to a collection agency. So maybe just for fun or not you should call and cancel.


• India
23 Jan 17
I think you would be getting few more last chances from them