The antithetical couplet written by my husband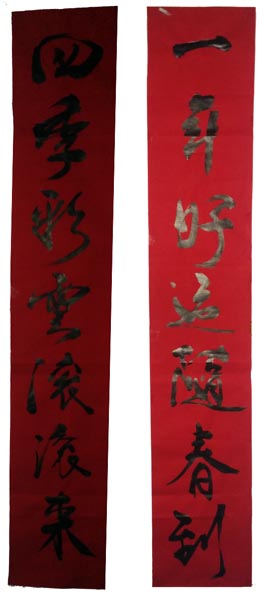 Guangzhou, China
January 24, 2017 5:39am CST
The Chinese New Year is counting down. On January 27th it will be the Chinese New Year Eve. We have many customs in the Chinese New Year. One is we will paste the antithetical couplet besides the door. My husband likes the calligraphy. So this year he used the brush and ink to write down this pair of antithetical couplet. It is not bad anyway

5 responses

• Philippines
24 Jan
May I know what's antithetical couplet means?

• Philippines
24 Jan
@youless
So they have good meaning or messages. That was nice to know

• Banks, Oregon
24 Jan
Happy Chinese New Year my friend, don't your have like a giant parade with dragon floats or something?

• Guangzhou, China
24 Jan
Everywhere in China has different ways to celebrate the Chinese New Year. Most of us will have a feast in the Chinese New Year Eve and then watch the TV. As to the dragon dance, it may be a commercial activity from the malls. We like to stay at home in the Chinese New Year Eve and we don't go out to count down. So it is not likely to see the giant parade


• China
24 Jan
Your husband's cursive handwriting is very good !I haven't written antithetical couplet for ages.I am rusty in it.

• Bunbury, Australia
24 Jan
It looks lovely. Are you able to tell us what it says or do you need to keep it a secret?