The action from Mr, Trump begins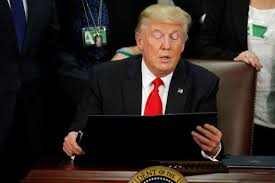 Hyderabad, India
January 25, 2017 7:18pm CST
yesterday the newly elected 45th President of the U.S Mr. Donald Trump has signed and approved the file pertaining to the construction of a wall along the Mexican Border. It is not known whether it will be of cement and brick or Fencing as announced during election campaign and modified subsequently. We have to watch the progress and see the development.
6 responses

• Peoria, Arizona
26 Jan 17
It is disgusting and so sad this is happening. We are literally turning into Nazi Germany. We were so much better than this. Welcoming others with open arms. Immigrants created this country, to shield them out is so wrong. Also...us inside will have to look at this atrocity. Sure it will give more jobs but..we are losing a freedom to love one another as equals and counterparts of neighboring countries.

• Canada
26 Jan 17
Very nicely said. I think it is a step backwards.

• Peoria, Arizona
26 Jan 17
@Happy2BeMe
It very much is. anyone that has tried to move this country progressively and worked so hard to do this are all rolling in their graves and broken hearted.


• Canada
26 Jan 17
He has been signing all kinds of things in the last few days...I am speechless!!

• Hyderabad, India
26 Jan 17
one more thing yet to come is temporarily banning the Visas of Syrian Refugees and other 6 other countries.

• Canada
26 Jan 17

• Hyderabad, India
26 Jan 17
His actions, I think, may land the U.S in great surprises and also the whole world



• Hyderabad, India
26 Jan 17
We should remember, earlier he said that the Mexican would pay for the construction of a wall. He may stick to it.

• Canada
26 Jan 17
@shivamani10
he said the US taxpayers would pay for the wall but that they would be reimbursed by the Mexicans at a later date.

• Malaysia
26 Jan 17
@Happy2BeMe
Wow, he's already starting to give credit to another country. And here I thought he's going to put America first.


•
26 Jan 17
So stupid.


• India
7 Feb 17
If the wall makes criminals and killers from entering United States, its ok, but otherwise it will be a loss for US in some ways.

• United States
30 Jan 17
I've lived through more Presidential Adminisrations than I care to admit, some that pleased me greatly, some that did not and some that fell somewhere in between, but I've NEVER seen the arrogance and incompetence - two things that should never go together - I've seen with this bunch. This would be hilarious in a dark sort of way if it weren't so terrifying. This delusional narcissist is the "Leader of the Free World"???