I ordered my dining table tonight.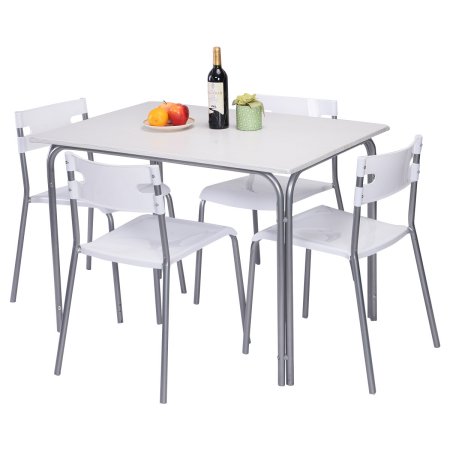 United States
January 26, 2017 5:28pm CST
I chose this set although I was going to get a two seat table. I want so bad to get new dishes and place settings to do my table. I found this on sale at walmart.com for $106 and it's not the color I prefer but for G and I to have nice dinners it will do. I want the one in my house gone now. This one will be ok for the time being. I am thinking of a red table cloth with red napkin holder. I can't wait to go to the dollar tree to get new place mats. My mom is buying a new set but hers is over $300. I don't need anything that expensive just to make pretty. By the time I hook this up it won't look like it cost less than $200. I am good like that. I will be back shortly I am about to mop the house for my mom.
5 responses

• Wausau, Wisconsin
27 Jan 17
That is a very nice pretty table set

• United States
27 Jan 17
Oh I am going to be so happy when it arrives. I guess I will be busy putting it together.

• Canada
26 Jan 17
I like it. It will looked nice once you get it all decorated the way you want to.

• United States
27 Jan 17
That is what I am working on right now. Thanks lb

• Canada
27 Jan 17
@sharon6345
I can't wait it see it when it is all set up


• Roseburg, Oregon
26 Jan 17
That dining room set looks nice.

• United States
26 Jan 17
Oh Judy I can't wait to show you the image after I deck it out with stuff.

• Boise, Idaho
27 Jan 17
This one is nice. We have an oval one. Nice daughter to mop your mom's floor.