Skydiver's Painting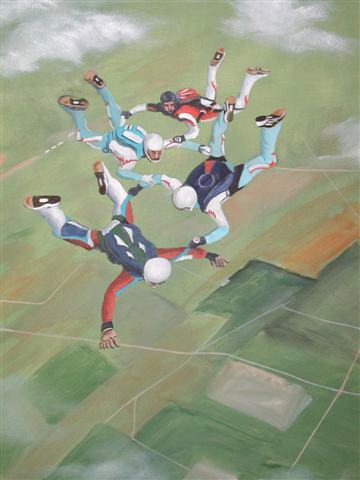 Jacksonville, Florida
January 27, 2017 10:42am CST
Here is another painting that my dad, Wlliam Trotter did. This is one of some skydivers taking a jump over Zephyrhills, Florida. As thrilling as this might appear to be...it is one thing that I would never like to try ever! I would be afraid something would go wrong, and the shute would not open. Or...I would freeze up, and not be able to find the ripcord. LOL Has anyone ever gone skydiving?
6 responses

•
31 Jan 17
Very interesting use of colors! :) Very interesting painting! :)

• Centralia, Missouri
28 Jan 17
I don't think I could take the jump out of a plane/helicopter

• Charlotte, North Carolina
28 Jan 17
We lived near a skydiving field years back. It was fun to watch, but too expensive for me to try. Oh, frightening? Yeah.

• Philippines
29 Jan 17
You mean this is painting, really, not a photo. The canvass is the farm fields below

• Jacksonville, Florida
29 Jan 17
He painted it all. Even the farm fields. I have hundred's of paintings to share. I will get around eventually to them. The icon I have on myLot is also a painting that he did. If you want to scroll down my previous posts, I have already shared some of his work already. He is so gifted that his painting does look like photos many times.

• Philippines
30 Jan 17
@teresatrotter
your father is a great painter. Surely I will scroll down to you previous posts.

• New Delhi, India
27 Jan 17
The very thought of skydiving makes me crazy...I can never do it

• Jacksonville, Florida
27 Jan 17
I am in total agreement with you! LOL

• United States
27 Jan 17
I love the picture. I have never had any desire to go skydiving, though. I love being on an elevated place and looking down at the patchwork of fields and farms.

• Jacksonville, Florida
27 Jan 17
I like seeing them in an airplane. It is so cool. Hard to believe how big it gets, the closer we get to the ground.