Have we forgotten SELF-LOVE?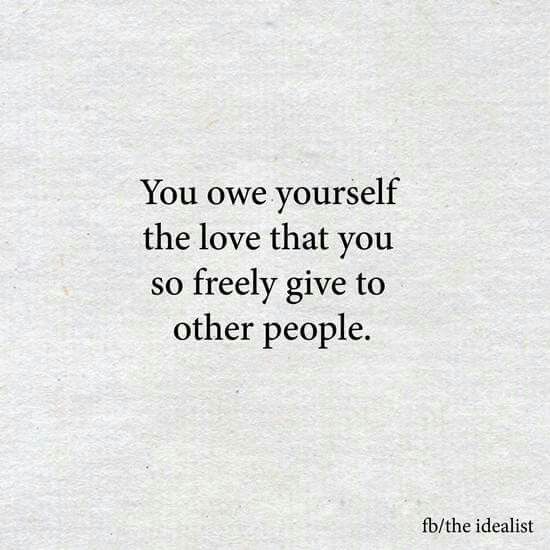 January 28, 2017 7:21am CST
Great day, Great money, great job, such an amazing day ,, yet still unhappy. My boyfriend gives me all the love I want but still I know there's something missing. Is it because I have grown up in this big world and forgotten the small pleasures of life. Have we forgotten how we used to be when kids. Everytime I close my eyes, I realise the younger me, when I was 5, I learnt the simple language of love, and whoever was good to me, I was happy with that person. I dint think about sacrifices, about adjustments or compromises. I thought about how someone is loving me so much hence I was completely satisfied with that. Just the feeling of getting that love from someone else just like you had loved yourself all while, was amazing. And hence 'm here, to make you realise.. What's wrong ?? Where has all self-love gone. How many times do we stand in front of the mirror and say I love you., Rashmi (your name) and how many times do I stand up for myself when it comes to fighting back. How many times do we face failure with a smile and say back 'I can do it' The only reason I've picked this topic the first is because we criticize everyone on these blogs , talk about growth, money, relationships with parents and spouse, but Where is the topic between my heart and me, my selfworth and my mind talking to me. Let me knw in the comments if you think we need to get self-love back to all those who have forogtten it. More on this coming soon. My love to all, Rashmi (:
5 responses


• India
28 Jan 17
Loving oneself is the most important thing to do to boost one's confidence and enhance one's personality! I usually, in the bad times, talk to myself, console myself, that things will go alright. And it feels so good!

•
28 Jan 17
It surely does. (: Thanks for your comment.

• India
28 Jan 17
@Rashmikanjwani
You're welcome! Still trying to figure out how it all works,haha

• Australia
28 Jan 17
I used to be like that once, thinking of myself and about myself. But then I have my own family. I start think of them and do everything for them. Even my daughter keeps telling me to be more selfish and think of myself only...But how can I think of myself only when there are loved ones around me? If you have too much love...share it with others.. I believe in giving and taking.


• Hyderabad, India
28 Jan 17
Welcome to my lot yes we love you to be a part of mylotter. We are having discussion on hi you found mylot website can you please let us know.