A misconception about INTROVERTS!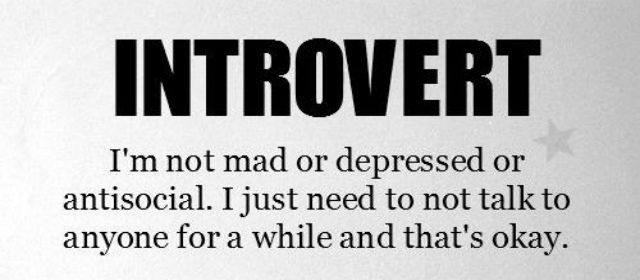 India
January 28, 2017 8:16am CST
I declare that I am an Introvert! Now, as you read the line mentioned above, some you might be thinking that I am: 1. A person who is a shy. 2. A person who doesn't like to talk much. 3. A person who gets scared trying new things. But hold on a minute, these are the traits that are misunderstood by us about an introvert. An introvert, according to me, is a person who appreciates solitude. He is a person who doesn't open up to people much easily! What do you think about these misconceptions? Let me know in the comment's section.
10 responses

• Hyderabad, India
28 Jan 17
I think you talk too much it is good though I am like you my friend.

• India
28 Jan 17
Thank you so much for the response, yes I am very talkative, but only on the internet and also while talking to my best friends. So see, you're already my friend. So, what type of a person you are: Introvert? Extrovert? or a combination of both - Ambivert?

• Hyderabad, India
28 Jan 17
@AmazingHJ
I don't know about those words but I like to speak. Take risks and more importantly I am learner. Who learns from every where and on any subject keen to learn.

• India
28 Jan 17
@AJAYSAXENA
That's true because, on every stage of life, our life tries to teach us so many lessons.


• India
28 Jan 17
À very positive look it is. Agréé with you

• India
28 Jan 17
Thank you very much for the comment. It's really appreciated. So, what type of person you are? Introvert or Extrovert?

• India
29 Jan 17

• India
28 Jan 17
Hello Shubh, thank you for the comment. What type of person are you? Introvert or Extrovert?


• India
29 Jan 17
Everyone has a right to be happy and that includes introverts. It is unfair to judge them. Leave them be.

• India
29 Jan 17
Yes. That's what I am exactly saying. If introverts find happiness in solitude, let it be. Why to judge them?

•
28 Jan 17
I absolutely deny these misconceptions. Introverts are are misunderstood because of the traditional way of explanation by psychological philosophers.

• India
29 Jan 17
But with new time, we must break those traditional way of thinking. For if the world is getting modern, we must also make our mentality modern. :)

• India
28 Jan 17
Hi, I am glad you found it nice. ??

•
6 Oct 17
I agree with you and what the sign says. It does not mean that one is an introvert if they just want some time alone and not talk to anyone for awhile. I love peace and quiet if can get it. That does not mean that I am shy. I do like my privacy though.

• Makati, Philippines
2 Mar 17
Many people misunderstood introverts since most of them are introverts and we introverts tends to be silent rather explaining our side that is why extroverts don't really understands introverts. Try to visit my blog about introverts unspokenwisdom.blogspot.com This is where I share the characteristics of being an introvert like me and the minunderstanding of others and also by us on being introverts

• Bunbury, Australia
8 Feb 17
I like and need solitude from time to time. I think I'm an introvert.