First Day Out on the Town for Shopping and Photo Walks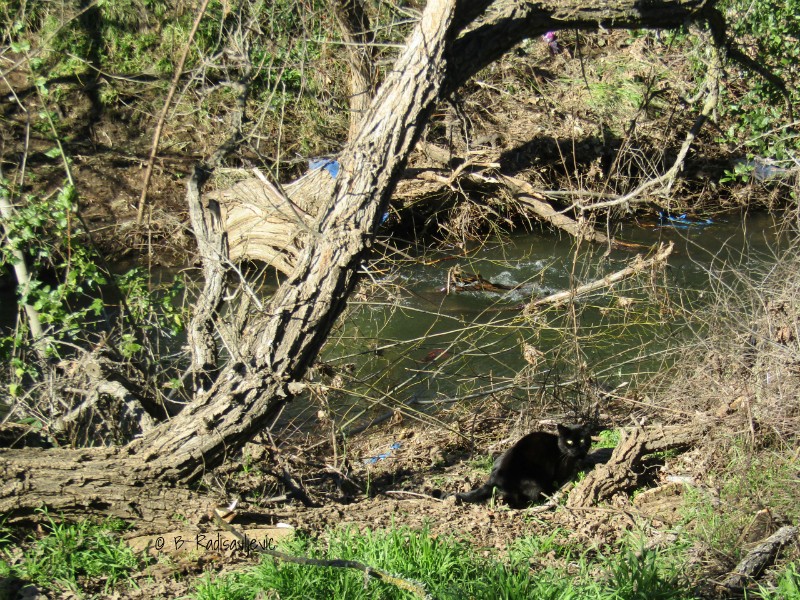 Paso Robles, California
January 28, 2017 11:06pm CST
Today I feel like myself for the first time in weeks after this flu. I made the most of it. I carefully planned my itinerary to use very little gasoline. I wanted to shop and get the pictures I need for my blogs before the rivers and creeks go dry again. Here's how my day went. 1. I went to the vacuum cleaner repair shop to see if my old canister vacuum can get back to work again. I looked at new machines that would do the job if the old one can't be fixed. I'll write about my decisions and need in a separate post when I know more. 2. I then drove a couple of blocks to the bridge over the Atascadero Creek so I could take photos of the creek before it dries up. While taking the pictures I took a small footpath to get closer to the creek, and that's when I saw the cat whose photo I'm posting here. At first, I was sure it was feral, but I'm not sure now. Someone may be feeding it because I saw the bowls. The bowls I saw were full of water. Someone had also put a doghouse there near a water bowl. The cat was doing its business. She was almost finished when she looked up at me and I shot this photo. 3. I had parked in the Colony House Parking Lot while I took the pictures of the creek. I stepped inside to use their restroom and for the first time actually saw the inside of this historic home. It's now a museum and the current home of the Atascadero Historical Society. They let me take a few photos of the inside. 4. The next stop was the Atascadero Lake. I haven't photographed it in months. At that time some water had returned to the dry lake, but it was still more like the mud hole that gave Atascadero its name. Atascadero is Spanish for "bog." I got some great photos some of which I may share in future posts. I did not walk around the entire lake because I didn't want to push my luck, but I took several short walks to get a lot of photos from different points around the lake. 5. The next stop was Smart and Final to stock up on food and use their restroom. 6. I had one more photo walk to make on the way home. I stopped on Vineyard Drive in Templeton to photograph the Salinas River from the bridge that crosses it. I also photographed some nearby horses. 7. I made a U-turn and crossed the freeway to get to Trader Joe's where I stocked up on tea and produce and some other things I don't buy at Smart and Final. 8. My last stop was the Templeton house. Hubby is sick again today, so I wanted to get the mail while I was in Templeton and pick up more winter clothes to bring home. I also took a quick photo inventory of my orchard and flower beds. Most of my daffodils there are ready to bloom. Considering this was my first time to leave the house for several hours since catching the flu, I think I got a lot done. Now all I have to do is use those photos in blogs and make some Zazzle products with some of the best. I still have one more photo walk I want to do, but it's farther from home and I still don't know how to get there. I think I'll rest tomorrow. Did you do anything fun or special today?
7 responses

• United States
29 Jan 17
You certainly had a busy day for one just over the flu! I always do some for fun whenever I can. Yesterday, I went shopping with my husband, then out to lunch. After that I walked with a friend and looked at the beautiful homes on the water. Finally, hubby picked up dinner and we watched a movie. That's about all the fun I can handle in one day. Lol!

• Paso Robles, California
29 Jan 17
Sounds like you had a delightful day.

• Paso Robles, California
30 Jan 17
@DianneN
I'm 73 and usually prefer smaller doses myself. I was just afraid the water levels I wanted to capture would go down if I waited. I did put off the last place I want to photography because it will be much more strenuous and it's a more isolated place and it's hard to find.


• India
29 Jan 17
@bagarad
It is Sunday morning here.I think you have done enough for one day.No point in overdoing it and falling sick.So can we look forward to some photos here.I am looking forward to see those Daffodils when they bloom.Is your husband better now?

• Paso Robles, California
29 Jan 17
I hope I get back to the other house when they are blooming. Meanwhile, I can share photos of some that are blooming here. For some reason they are ahead of the ones in Templeton.

• Paso Robles, California
30 Jan 17
@silvermist
I just posted a daffodil photo. We can only post one per discussion.

• United States
29 Jan 17

• Paso Robles, California
30 Jan 17
I love them, as long as I don't slip in the mud.


• Paso Robles, California
29 Jan 17
This year Chinese New Year got right by me, along with almost everything else while I was down. Glad you had fun.

• Bunbury, Australia
29 Jan 17
It does sound as though you got a lot done.

• Paso Robles, California
29 Jan 17
I did. I hope I didn't overdo.

•
29 Jan 17
No special plans for this Sunday. I'll just stay home and work on my online jobs.

• Paso Robles, California
29 Jan 17
Sounds like a good plan. I'd do that, too, but I have some cooking I need to do today.

• Philippines
29 Jan 17
You deserve this. We are just staying home for the weekend.