Spending Your Last Dime

Daytona Beach, Florida
February 2, 2017 2:44pm CST
On January 31, 1990 in the former Soviet Union the first McDonald's fast food restaurant opened in Moscow. I know that people there were tired of not being able to live a freer life but can you imagine that on this day long lines were formed and people were ready to put down several days' wages just for a Big Mac, shakes and fries. Now that I think is a bit extreme. However you had to understand how tired the Russian people were of the gray everyday life. Finally there was a chance to enjoy a small pleasure and even the cashiers for a change were polite. The arrival of the McDonald's was a sure sign that changes were just on the horizon.

On this day in History, First McDonald's opens in Soviet Union on Jan 31, 1990. Learn more about what happened today on History.
6 responses

• Oklahoma City, Oklahoma
31 Dec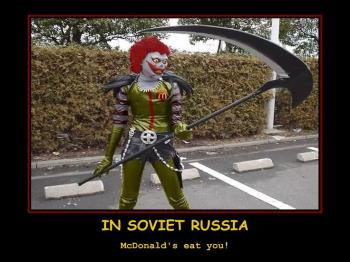 LoL ... there's also, "In mother Russia, Ride Horse & Eat Horse simultaneously" (with people riding horses through the drive-thru).

• Daytona Beach, Florida
1 Jan

• Pittsburgh, Pennsylvania
1 Jan
I am so glad they got one! I do not remember this happening when it was in the news. Thank you for sharing! I would spend my last dime on their McNuggets or a quarter pounder that are both like gourmet eating in my personal book!

• Bunbury, Australia
2 Feb 17
What we take for granted can be exceptional and exciting to others.



• United States
2 Feb 17
I would spend my last on a meal any day..