What Are The Birds Looking For?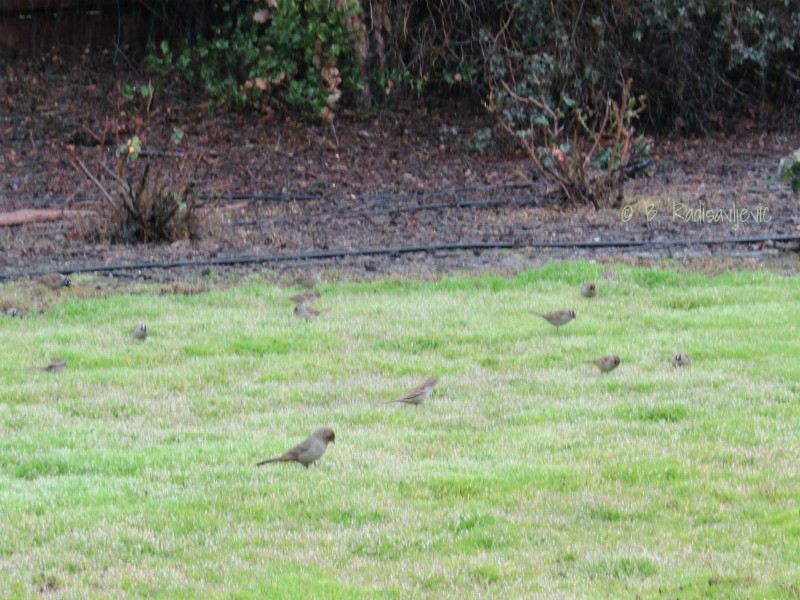 Paso Robles, California
February 4, 2017 1:12am CST
It's been a rainy day. When I went to check the weather from my back porch about ten this morning, my lawn was full of birds. I went back to get my camera, but, of course, they heard me open the sliding door and flew away. I had to stand there for a few minutes before they came back. I'm not sure what they are looking for. I know the worms often come to the surface when it rains. The ground is soaked and making puddles on the lawn. What do you think the birds are after?
7 responses


• Bunbury, Australia
4 Feb 17
I suppose it's worms that the birds are hoping to find. You would wonder sometimes though wouldn't you?

• Paso Robles, California
5 Feb 17
I would guess that's what they were hoping for.

• Los Angeles, California
4 Feb 17
Probably worms or some other taste treat.

• Paso Robles, California
5 Feb 17
If those are sparrows, they might well be looking for seeds. There are lots of dandelions in that lawn, as well as other weeds.

• India
4 Feb 17
It could be anything but your guess could perhaps be right They could even quench their thirst. I have birds in groups that are seen on trees and on the ground as well.

• Paso Robles, California
5 Feb 17
I usually see the birds up on the wires. I do see groups of them on the ground in open fields and by the river.

• New Delhi, India
4 Feb 17
That must have been good to watch...isn't it?

• Paso Robles, California
4 Feb 17
I always like watching the birds and any other critters who visit my yard.

• Italy
4 Feb 17
I hope it's the worms. Unless they're thirsty, then water.

But you know better than me what's in your lawn.

And it's probably greener than mine, too.


• Roseburg, Oregon
4 Feb 17
Those birds are looking for some yummy worms to eat. You could catch the worms and go fishing.