Fastback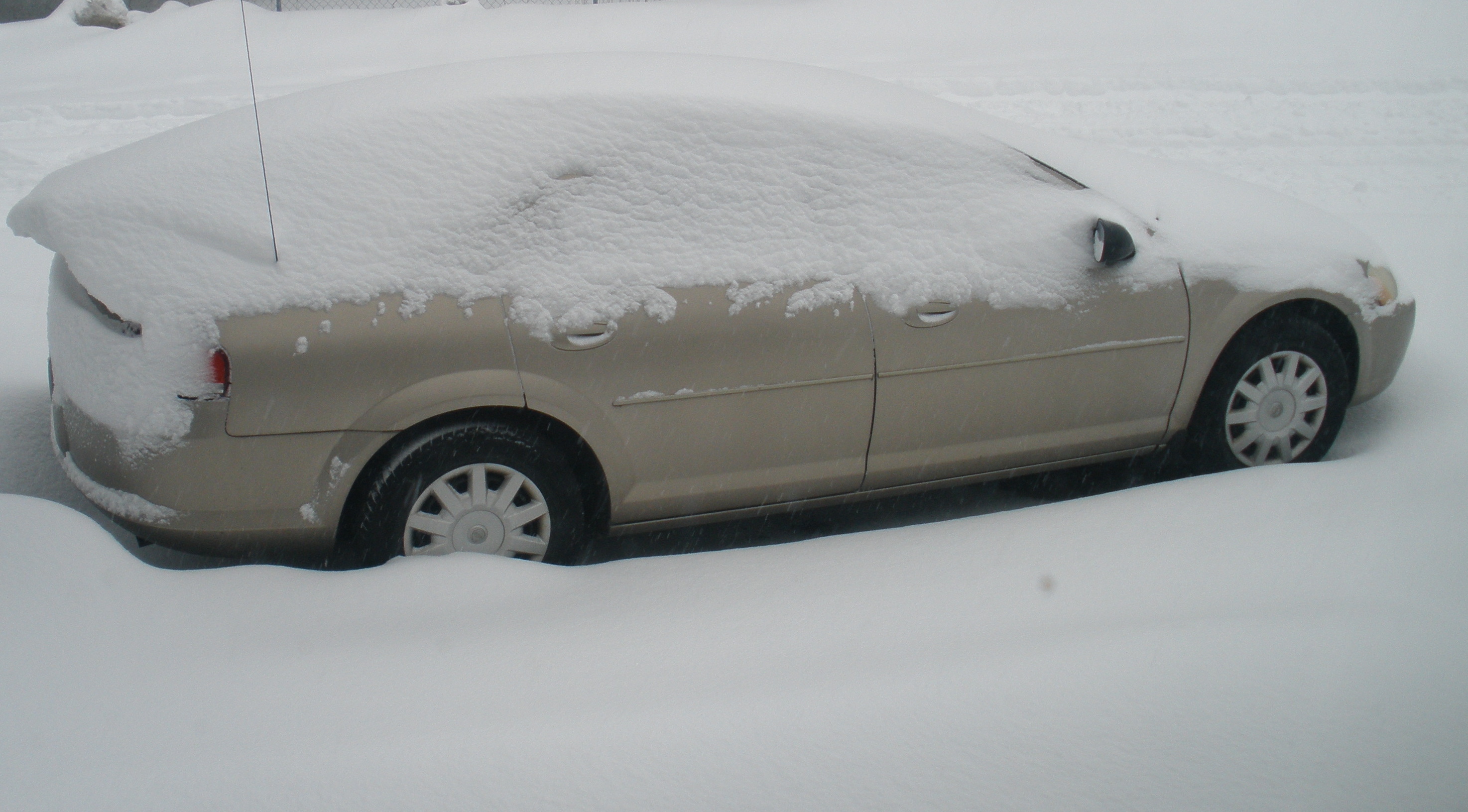 Otis Orchards, Washington
February 4, 2017 2:08pm CST
My car is now a fastback. Just a little bit of snow, well, quite a bit of snow, and some wind and ta-da, I have a fastback. Yes, that's all snow over my car's trunk. You can get an idea where the trunk is by looking at the antenna. I think I'm going to have one tick off neighbor. When I was out shoveling snow a guy came by with a small four wheel drive tractor with a plow on it. He told me to step aside. Before I had a chance to say anything he plowed a pile of snow in front of the neighbor's pickup. I yelled at him to plow it in front of my pickup since I wouldn't be driving it. (The photo was taken before I shoveled.) My neighbor rarely drives his pickup, but I didn't want it blocked in just in case he wants to take it somewhere. Hopefully he won't be too upset. He has a good snowblower so I'm hoping he'll be able to remove the pile with it if he plans to take his pickup anywhere. I was going to go over and knock on his door and talk to him about it but his wife worked last night. I do not want to disturb them. She is a manager at a twenty-four hour Taco Bell so she works all kinds of crazy hours. I know what it's like to try and sleep during the day after working all night. Everyone is making noises. If he starts snow blowing I'll go out and talk to him. We are supposed to get rain this afternoon but I don't know if that's going to happen. It's only twenty-seven degrees Fahrenheit (-2.7º C). It had quit snowing but it's snowing again right now. We have a cold front and a warm front coming in at the same time. The cold front is winning right now. By Monday it's suppose to warm up to forty degrees Fahrenheit (4.4º C) or warmer. The daytime temperatures are supposed to stay above freezing from Monday through the rest of the week. This morning when I went out to shovel snow one of the neighbors was out trying to drive away and kept getting stuck. Then she jump out of her car and yelled, "I'm sick and tired of the f-ing snow!" Well, that sums up a lot of people's feeling around here.
6 responses

• United States
5 Feb 17
Oh yah, that's a lot of snow . . . not only am I looking on top of your car, but all around the car!

These are the things I never have to think about here. With all the various places we have to go to on a daily basis, I would scream if I had to deal with getting stuck. We got some rain on Friday, got a break by the end of the day, sunny pleasant yesterday . . . and today, Sunday it is back to gray with a chance of rain.

• Otis Orchards, Washington
5 Feb 17
I cleaned my car off and once I got out on the main road it was smooth sailing. They eventually got in here and plowed. I went outside at about 1:30 a.m. and there was a warm breeze blowing and water dripping off the roof. So instead of getting more snow as was forecasted we are getting rain and the snow is melting somewhat fast. Right now it's 35º.

• United States
6 Feb 17
@RichardMeister
How often do they plow there . . . how would you know they were coming so you could move your car out of the way? Ah, so is it slushy there now? Did your pile of snow finally all melt away? We didn't get any rain today - I guess that's supposed to come tomorrow.

• Otis Orchards, Washington
6 Feb 17
@much2say
Since I live in a mobile home park (which is private property) there is really no telling when they are going to plow. It's done by a private company or an individual with a snow plow. They used to have a pickup with a snow plow on it and the manager would plow the place but for some reason they got rid of it (probably the new managers didn't want to deal with it–they're a bit on the lazy side). The last snow storm the guy plowing didn't get here until late afternoon, which didn't make the residents very happy. I think this place is low priority for him. He may have jobs that pay better. I was surprised the mail lady delivered the mail since they don't have to if it is hard to get to the mailbox. But she had the wheels on the mail vehicle chained up. I got my car somewhat stuck down at the mailbox, but with a little rocking of my car I was able to get going and make it back to my house. As far as moving my car, I don't. I am parked in a parking area and it was just a fluke the guy happened to come by and plow the snow where I was shoveling. He was not the guy that plowed the streets. As far as the main road that goes by the park that is plowed by the county and they are pretty good at keeping it cleared. They usually run a truck by with a snow plow on it then a road grader to plow the snow off the sides of the road so if someone needs to pull over there is room from them to do so. It's basically wet. Yesterday it rained most of the morning then turned to snow in the afternoon which is a bit strange since it's usually warmer in the afternoon. Last night in the middle of the night I was woke up by wind. It was blowing quite hard but it only lasted about 15 minutes. I have no idea how long it blew before I woke up. We are still on the edge of a warm front and cold front so we may get snow for awhile then rain. The weather forecasters have basically said, "We are going to get precipitation. It's either going to be rain or snow or a mix. Welcome to Spokane in February."


• Moses Lake, Washington
4 Feb 17
Your last paragraph: I heard people saying things similar but in a milder manner when we went grocery shopping. Everyone and their cousin is sick of the continual snow. Me, too, as if you couldn't tell!

• Otis Orchards, Washington
5 Feb 17
If they made it to the grocery store then I'm sure they were a little less agitated than the neighbor who was stuck. We ended up pushing her out to the main road which was plowed. She was headed to Les Schwab's for some new snow tires. They finally plowed the streets in here.

• Moses Lake, Washington
5 Feb 17
@RichardMeister
That was nice of you to push your neighbor. I love my studded tires.

• Otis Orchards, Washington
5 Feb 17
@sallypup
I have not put studs on any of my vehicles in probably 30 years. I have my all season tires siped and I have gone anywhere I wanted to–even up hills that surprised me.


• Bunbury, Australia
4 Feb 17
The snow must make things really difficult. I suppose shovelling it is good exercise but sometimes even that has serious consequences.

• Otis Orchards, Washington
5 Feb 17
I just take my time and if I start to get cold then I come into the house and get warmed up.

• Daytona Beach, Florida
4 Feb 17
We have no more snow but very cold temps and ice all around here in Riga, Latvia now they say that more snow is coming and our temps are greatly dipping next week.

• Otis Orchards, Washington
4 Feb 17


• Otis Orchards, Washington
4 Feb 17
Yeah, it's about time for summer.