Nothing new but worth a look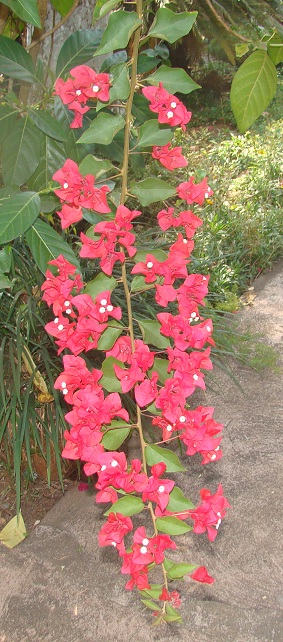 India
February 7, 2017 3:24am CST
Our garden has loads of bougainvillea as a result of the deep pruning we did earlier. What drew my attention a while ago was this red bougainvillea that has bloomed in isolation. I just could not take my eyes off it. I found it exotic and beautiful. Thought of sharing it with you.
8 responses

• Philippines
7 Feb 17
I'm jealous of your garden. I want to have red bougainvillea in my garden but I haven't buy one until now. I think their roots are sensitive they don't easily transfer to new soil. I had a peach bougainvillea but it did not bloom it's peach colored flowers just full of leaves no flower

• India
7 Feb 17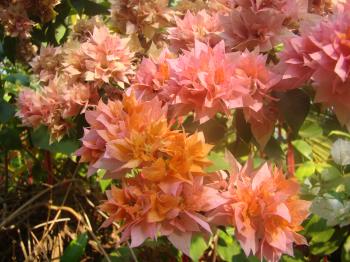 You need just a cutting and that will take root. Wonder why your peach flower did not bloom. You must be watering too much.

• Philippines
7 Feb 17
@allknowing
Yes I watered it a lot. Maybe that's the reason how often should it be watered?

• India
7 Feb 17
@averygirl72
Once a week. And if you see leaves drooping then you can do it twice. I sent you a peach flower. Did it not register in your box?



• India
7 Feb 17
I have many colours planted in clusters all over the garden so that our garden gets a lot of colour

• India
7 Feb 17
@allknowing
But this colour (the image you posted here) is most beautiful.

• India
7 Feb 17
@Sreekala
Thanks. I too found it irresistible and hence felt like sharing.

• Bunbury, Australia
7 Feb 17
This is just beautiful. Your flowers would bring you lots of pleasure.

• India
7 Feb 17
Our garden is a place where I get my joy on a daily basis.

• Bunbury, Australia
7 Feb 17
@allknowing
You sound like my mother. She was always happy when she was in her garden.

• India
7 Feb 17
@JudyEv
Anyone who maintains a garden will get joy. There is always something new to look forward to.

• United States
7 Feb 17
That is gorgeous!!! I have to see if conditions are right to grow bougainvillea here. What a lovely sight to see!!

• India
7 Feb 17
Bougainvillea are easy to grow. They do not like too much wetness though.

• Pamplona, Spain
7 Feb 17
Thank you that does look really beautiful too. How many other kinds of flowers do you grow then. I was looking at the Palm Trees and the state some of them are in. A few seem healthy enough and the rest have orange coloured leaves.

• India
8 Feb 17
Were you looking at palm trees in your garden? I have many flowers,palms and fruit trees and a lawn on the terrace.

• Peoria, Arizona
7 Feb 17
It is so pretty! One of my grandma's favorite flowers are bougainvilleas

• United States
8 Feb 17
No wonder you could not take your eyes from it. It is quite stunning.