Songs That Get Stuck In My Head # 3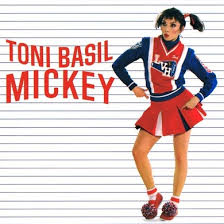 United States
February 8, 2017 9:01am CST
Coming in as the number 3 song that gets stuck in my head is by Toni Basil. The song is Mickey. It first hit the air waves in 1981. MTV was in it's infancy and this video got a lot of air play. She dressed like a cheer leader in the video. The hook line, "Oh Mickey, you're so fine / You're so fine you blow my mind, hey Mickey..." picture is from google pictures
4 responses

• Los Angeles, California
8 Feb 17
I love this song! A great 80s tune. Toni Basil was a dancer-choreographer-actress and this is her claim to fame.

• United States
8 Feb 17
I recently saw a video of her, last year I believe it was and she put on the cheer leading outfit and rock out the song again. Not bad considering she is in her late 60's early 70's. She still has the voice and the moves.

• United States
8 Feb 17
I always like this one. Have not heard it such a long time.

• Canada
8 Feb 17
Now I got it stuck in my head..lol..bopping around the office!!

• Bunbury, Australia
9 Feb 17
I don't remember this one but some songs do get stuck don't they?