How strong are you?

United States
February 9, 2017 11:08am CST
I was reading this interesting article... I also remember back in the late 1980's or early 1990's something at work. We would have "health fairs" at work sometimes. My co-workers came up raving about this one test. It was a grip test. They all - well, all 4 of them, small unit, were in the top 10% of the population of the grip test. Maybe even in the top 4%. That was a long time ago. "You have to go take this test," they told me. "I won't do well," I told them. But to end their nagging, I went down and took the test. The young man asked if I were squeezing as hard as I could. I told him I was. Then I went back upstairs and told them that I was in the bottom 4%. After work, I went to my mom's and told her about it. She agreed, she said she didn't have a very strong grip either. I knew that I didn't have a good grip back when I rode because I was always getting the reins yanked out of my fingers. I got around it by being very fast. I'm still pretty fast - not running type fast, but fast with my hands. I also have pretty fast reactions. So, I jokingly tell people that "I lost my grip years ago," and let them wonder...


When she was a practicing occupational therapist, Elizabeth Fain started noticing something odd in her clinic: Her patients were weak.…
6 responses

• Canada
9 Feb 17
I can put my hands on the side of the chair and lift my body up but I can't do one single pull up from a monkey bar. There may be different muscles in my arms and some are stronger than others.

• Canada
10 Feb 17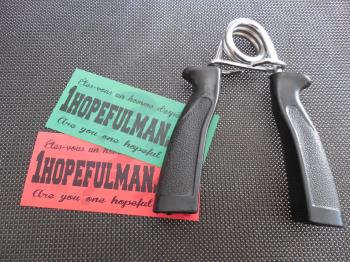 @ElicBxn
I used to have these hand strengtheners in my car and used them as I was waiting for the light to change. Is this good for the grip?



• Philippines
9 Feb 17
Lol! That was fun. I am not as strong as everybody but with my adrenaline rush due to something I can do everything faster and carry heavy things lol. My officemate our laughing at me when I do.

• United States
9 Feb 17
If a standardized test can actually make a person feel worse about themselves, why take it ? If your grip is strong enough to manage holding things without dropping them, you are okay so don't let a standard define you

• United States
10 Feb 17
I knew I wasn't going to do well on it, I told them before they badgered me to go down and really didn't quite believe me when I came back... It didn't make me feel bad, because I knew I wasn't going to do well to start with. And its true, so long as I can hold a knife and fork, I'm good, right?

• United States
10 Feb 17
@ElicBxn
well I suppose if you have the basic physical activities mastered who needs to go further than that if your satisfied, right ?

• United States
10 Feb 17
@enlightenedpsych2
there is some thought, at least in the article, that some of hand strength is inherited and since my mother had poor hand strength too...


• United States
10 Feb 17
I don't know about my grip, but I think I am fairly strong overall.

• United States
9 Feb 17
I am not sure how strong I am, but definitely not as strong as in my younger days.