Why MyLot Doesn't (and Shouldn't) Pay 'Living-Wages' to Its Members!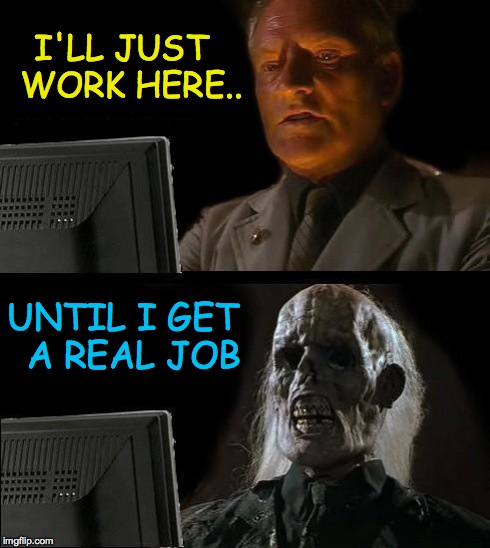 Oklahoma City, Oklahoma
February 9, 2017 12:47pm CST
in short, it's because "Money buys
Real Things
," and--though some of us might spend
hours
here responding to posts and -doing tasks and things--we don't produce 'anything real' ... unless you want to
dig deep
and consider that we 'produce' an audience for MyLot to use in 'advertising-negotiations'

Now
maybe
some of us work efficiently enough to earn full-time income from MyLot---which is okay, because their input helps the rest of us "understand what's wrong with the world" or "find peace with ourselves" or "stay entertained" or something. But I'll continue to tell people who want to make money here, "If you want to make money, then
stop
writing so much online &
Go Get A Real Job!
" http://www.wikihow.com/Get-a-Job
3 responses

• Richfield, Utah
9 Feb 17
My thing is that there are more than a million ways to make money. If your are one who makes a full time income just off this site alone, then hey, you're awesome! Most of us, me included is just doing this site along with a few other side hustles. Mostly just to put some money away for a later time or emergency etc. For some, this might be the only income they get, due to the fact that maybe just maybe there are no jobs, not even walmart, in thier area of residence. Just my 2 cents.

• Oklahoma City, Oklahoma
9 Feb 17
I guess one of the main things I want people to get from this is that 'MyLot-membership is not "employment"'---none of us are 'relying on MyLot-alone to fulfill all our money-needs in exchange for our time.' (Oh, maybe some can earn enough here to pay for all their needs; but that's all 'the system'---no one's name on it but the ones on the checks.) And their may be "more than a million ways," but they ALL boil down to Quid pro Quo. And--if the Quo you're getting is worth more than the Quid you gave--they say that 'Nature Herself' will take the balance-due!

From Wikipedia, the free encyclopedia Jump to: navigation, search This article is about the meaning and use of the Latin term. For other uses, see Quid pro quo (disambiguation). Quid pro quo ("something for something" or "this for that" in Latin)[1] means

• Richfield, Utah
9 Feb 17
@mythociate
agreed, thank you


• United Kingdom
10 Feb 17
While I agree that sites like myLot have no reason nor obligation to pay a wage, there are people who do actually work online. Also, some of us here also have 'real' jobs. Personally, I come here because I like it. The few cents I make are insignificant. Some people might argue that their work here is worth paying for. Whether it is or not, that's beside the point, I think. What I do think would be a nice idea would be to have, as was on a site I used to use, something like a Market Place where people could write articles to be published, which could earn extra. The problem with that is the possibility of such a thing taking over from the rest of the site and spoiling it (which seems to have been what happened to the site I used). What I am saying, though, is that you are quite right. Contributors to myLot shouldn't expect to earn a living wage from what we do here.

• Oklahoma City, Oklahoma
10 Feb 17
And the reason myLot
stopped paying
years ago (before they started paying again

) was that people were thinking their myLot payouts "too low" and felt that the only way to boost them was "to cheat the system." Which is why myLot doesn't reveal any "payment-system" except to tell us that 'the way we earn here' is (besides following all the instructions on the "Offers") posting discussions, responses & replies that other members find interesting.

This is where you will learn all about the myLot Earnings Program

• Bournemouth, England
9 Feb 17
The social benefits of myLot aside, there may be a.country or two where someone could just about survive on the $30 a month that top earners here make but for people in the western world this site is probably either a hobby to supplement an outside job or it is one of a number of online sources of income which, when added together, form a worthwhile amount which they can live on either full or part time. I think the glory days of Infobarrel and Bubblews, or even Webanswers where some were doing $400 a month at one time, have given the impression to some that any site can be at least a substantial second income.Sadly those sites are either paying much less in the case of IB or gone altogether.